Amsterdam, City of Sports
Amsterdam, City of Sports
With its long sports tradition, Amsterdam accommodates a range of international sports events each year. These range from the TCS Amsterdam Marathon or Dam tot Damloop for thousands of running enthusiasts to Jumping Amsterdam, an international equestrian event for dressage and jumping.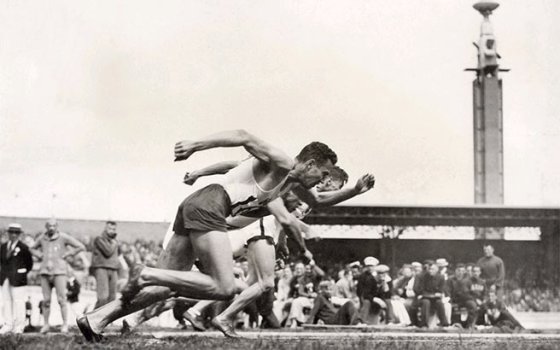 Amsterdam: sports in every gesture
Hockey, ice skating, athletics or football: sports are alive and kicking in Amsterdam. Amsterdam possesses excellent sports facilities, big stadiums and a favourable infrastructure. As such the city is a perfect location for big sports events. More than a hundred big sports events are held each year and they are more popular than ever.
Amsterdam, ice skating event champion
The popularity of sports events is not a new thing in Amsterdam. The All-round Speed Skating World Championships were held on Museumplein square as early as 1893. The event proved hugely successful, not least because it ended with Dutchman Jaap Eden's entry into the history books as the first ever speed skating world champion. It only makes sense, then, that Amsterdam is excited to organise the Allround Speed Skating Championship again in 2018, 125 years after Eden's victory. The location will be the historic Olympic Stadium, in which a temporary artificial skating track will be installed. Some 100,000 recreational skaters will enjoy a moment on their skates, and the stadium will host a select group of international top sportspeople and their enthusiastic fans.
Amsterdam goes for gold
More evidence that sports history has been made in Amsterdam can be found at the Olympic Stadium in the Amsterdam-Zuid district. This beautiful complex hosted the 1928 Olympics and even then the site was called a model for the future by Douglas MacArthur, the chairman of the American Olympic Committee.
It was a modern affair, not just because they were fully privately funded but because it proved a ground-breaking event for the emancipation of women in sports. It was also the first time that the Olympic Fire was lit in the 46 metre Marathon Tower, a tradition that has been kept alive ever since in every city hosting the Olympics.
Amsterdam, city of bicycles
In 1954 Amsterdam witnessed another first in the international world of sports. It was the first time ever that the Tour de France did not start in France but rather at the Amsterdam Olympic Stadium. A decision that makes sense, after all Amsterdam is a city of bicycles unlike any other.
The city as a stadium
Amsterdam has always been a liberal and progressive city with a talent for organising big events. Often, the organisation manages to give traditional patterns a special twist. The opening of the World Rowing Championships were held at the Rijksmuseum in 2014 and the World Beach Volleyball Championships were hosted in four different city centres in 2015. In 2016, several components of the European Athletics Championships, javelin throw and shot put, will be held at the historic Museumplein site rather than in a traditional stadium.
The past and present of historic sports events
As we mentioned earlier, Amsterdam has hosted countless unique events and will certainly continue to do so in the future. We have made a shortlist of such events for you:
1893 Allround Speed Skating World Championship
1928 Olympics
1954 Start of the Tour de France
2010 Giro d'Italia
2014 World Rowing Championships
2015 World Beach Volleybal Championships
2016 European Athletics Championships
2017 European Hockey Championships
2018 World Allround Speed Skating Championships
2020 European Football Championships
Read more about the European Athletics Championships at:  http://www.amsterdam2016.org/