Holland's best bed & breakfasts
Holland's best bed & breakfasts
Holland boasts more than 2000 B&Bs, ranging from small hostels on the coast to luxury rooms in the city center. All of them offer the warm hospitality associated with a bed & breakfast. We have selected a number of bed & breakfasts with very high ratings for you.
Ratings of 9.9 or better!
Unique, welcoming bed & breakfasts with high ratings.
Discover the hidden pearls.
Spending the night at a B&B
Spending your nights at a bed & breakfast is an excellent way to pass your holiday in Holland. Contrary to a hotel, a B&B is small and through the host or hostess, you are directly in touch with the local population. B&Bs are often located in the most idyllic spots in nature or on the coast.
We have selected the best B&Bs with the highest ratings for you. Sweet dreams!

Want to sleep on a private island? It's possible in Rietveld Cottage. A 2 minute boat trip takes you to a private island, where you can enjoy the peace and quiet in a roomy cottage, with a delicious breakfast.

Hazerswoude-Dorp, Zuid-Holland

Check availability

This excellent B&B is located in Oostkapelle, within walking distance from Zeeland's beaches. Enjoy free WiFi and the view of the beautiful garden.

Oostkapelle, Zeeland

Check availability
De Bostuin Veluwe is located in Lunteren, 35 km from Utrecht and 50 km from Den Bosch. This bed & breakfast has barbecue facilities, a sunny terrace and a bar.

Lunteren, Gelderland

Check availability

Romantic B&B in beautiful Friesland. You will sleep in renovated stables, with a lovely view of the quintessentially Dutch landscape.

Gorredijk, Friesland

Check availability

This B&B can be found in a monumental villa in Assen, which boasts royal suites with private jacuzzi and kitchenette. The perfect home base for bicycle tours through the surrounding area.

Assen, Drenthe

Check availability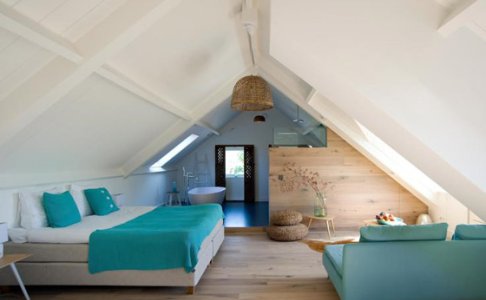 Spend the night at a B&B and enjoy a unique experience in the best locations in Holland. Local tips from your host or hostess will make your stay even more fun!
View the offer