Hotels in Amsterdam
Your visit to Amsterdam will be even better if you spend the nights at your perfect hotel. This city has the perfect place for every visitor. Do you prefer classic or modern? Would you like a view of the water or the bustling inner city? Do you travel on a small budget? We have listed the most popular hostels for you.
Unique Accommodation in Amsterdam
A variety of designers were called in to create unique hotel rooms. Spend the night in a tram, or in a secret room hidden behind a closet.

Amsterdam, Noord-Holland

Check availability

Spend the night in style in the 9 Streets neighbourhood, the hip and historic shopping heart of Amsterdam.

Amsterdam, Noord-Holland

Check availability

Spend the night in your own Van Gogh room with the Van Gogh museum just 300 metres away.

Amsterdam, Noord-Holland

Check availability
Hotels in Amsterdam
From hotels in the city center to unique hotels, there is an accommodation that is a perfect match for you in Amsterdam. Not sure what you are looking for? Check out the selection and find inspiration there.
Unique hotels in Amsterdam
Every hotel in Amsterdam stands out from others in one way or another, which has resulted in a number of extraordinary accommodations. Hotel Not Hotel is one of them. Creative designers were challenged to think up the most unique interior design for the rooms. Here you will spend the night in a tram carriage replica. Hotel IX in the famous 9 straatjes has also called upon designers to create the most stylish thinkable rooms. If you love the work of Van Gogh, the Hotel Van Gogh with its countless references to the famous painter is within walking distance.
Spend the night on a houseboat
Amsterdam is well known for its many houseboats. Some of these have been converted to Bed and Breakfasts and can be booked for your visit to the city. For instance, Westerdok 25 or Amstel Wake-up, which are near the Amstelstation and have a view of the Amstel river. Houseboat Little Amstel is also on the Amstel, this time in the popular Pijp district.
Hotels for a small budget
If you are looking for a lower cost place to spend the night in Amsterdam, you will find several low-budget hotels here. You can also check out the hostels. Amsterdam has a broad selection of lower cost hostels, both in and outside the city center.
Search hotels
Top destinations
Alternative accommodation in Amsterdam
Featured budget hotels in Amsterdam

Book now

Discover the Dutch capital and book one of the many great hostels in Amsterdam here.

Read more

Visit the capital of Holland and stay in one of the many unique B&Bs in Amsterdam.

Read more
Highlighted Hotels in Amsterdam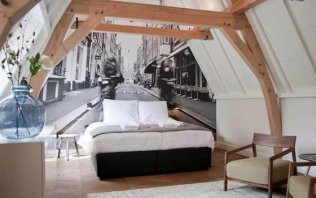 Romantic hotels in Amsterdam
Design hotel in Amsterdam's city centre. Stylish, rustic rooms with a touch of romance.

Amsterdam, North-Holland

Check availability

Elegant accommodation situated at the famous Keizersgracht in Amsterdam. Stylish rooms where classic elements are still visible, giving the rooms a romantic touch.

Amsterdam, Noord-Holland

Check availability