Enjoying the Sunshine at Hotel New York in Rotterdam
Enjoying the Sunshine at Hotel New York in Rotterdam
Heather Tucker, Wednesday, July 3, 2013 , 595 Views
"Where shall we go for lunch?"
It is amazing how those six words when strung together can create one of the hardest questions to answer. Especially if you happen to be in Rotterdam, where the eating opportunities are vast and varied.
"Anywhere where we can enjoy the sunshine."
Since sunshine can be a rare creature in the Netherlands and it was currently shining in large quantities, this did not seem like an unreasonable request.
"What about Hotel New York? They have a nice lunch menu and you can sit outside."
"Sounds perfect to me."
Situated in the former head office of the Holland America Line on the south side of the city, this office was built in the Jugendstil style in 1901 by the architects J. Muller, Droogleever Fortuin and C.B. van der Tak.
When the head office moved to Seattle in 1984 the building was put up for sale and it wasn't until May 5th 1993 that it opened its doors as a hotel and restaurant.
Outside tourists and locals alike enjoy taking photos of the elegant building, the Rotterdam skyline and the nearby Erasmusbrug. Inside, families, couples and friends indulge in high teas, fresh fish and newly baked desserts. On a busy day the walls buzz with the visitors' chatter. On a more quiet day there is a gentle hum about the place.
The menu provides plenty of choice but since I am allergic to fish and seafood, I passed up on the fish and oyster selection and went instead for the Hotel New York beef burger (minus the egg and the tomato), which turned out to be one of the best burgers I have had in a long time - and it wasn't just because I was hungry. I followed this off with a creamy creme brulee that has me thinking I need to return for another this week, as I write this.
Outside the large windows, the sun continued to shine as individuals continued to make their way to the terrace outside. With the boats floating by, the well known blue and yellow water taxis bobbing about and a gentle breeze in the air, I'm not sure there was a better place to be in the city.
We gradually finished up our drinks and paid the bill before heading outside. We even decided to take a small walk, the atmosphere and weather was just too good to leave so soon.
So whether you are looking for somewhere unique to enjoy a meal, have a sunny day and want to take advantage of it or just want a great experience in the city of Rotterdam, then you want to keep Hotel New York in mind. It is well worth it.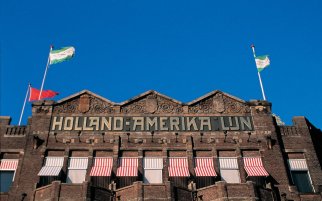 Discover this beautiful hotel in the former head office of the Holland America Line.
Read more