Gassan Diamonds Amsterdam
Gassan Diamonds Amsterdam
21,455 Views
Gassan Diamonds Amsterdam
Amsterdam has a 400 year old history with diamonds. Gassan Diamonds tells you more about the 'City of Diamonds', diamond cutting and the Amsterdam Cut.
Read more
To see the most beautiful of diamonds, jewellery and luxury watches, you have to visit Gassan Diamonds in Amsterdam. The employees, who speak multiple languages, await your arrival to give you a personal tour and tell you everything you want to know about the origin of diamonds, how they are worked, and the unique Gassan 121.
Visit Gassan Diamonds in Amsterdam and discover this unique diamond cutting business.
Take the free tour and learn all there is to know about diamonds, diamond cuts and the unique Gassan 121.
Design your own piece of jewellery or visit the Rolex Boutique.
Download the free Gassan Diamonds voucher here.
Amsterdam, diamond city
Amsterdam has been famous for its diamonds for more than 425 years, and Gassan Diamonds is an important part of that history. It was established in 1945, just after the end of the Second World War, by Samuel Gassan, as a business specialising in the import and export of raw and cut diamonds. Today, the business is located in a monumental building on Uilenburg island in the centre of Amsterdam.
Tour
At Gassan Diamonds, you can learn all you want to know about diamonds. In no less than 27 languages, the guides will answer all your questions about the history and craft of Amsterdam's diamond cutters. You will learn about carats, colours, clarity, cuts, and witness the cutting of the business' pride, the Gassan 121.
Gassan 121
Gassan's diamond cutters have been working to create the perfect, brilliantly cut diamond for decades. This cut originally had 57 facets, but the cutters have since developed a unique, patented cut that has no less than 121 facets: the Gassan 121. The increased number of facets gives the diamond even more brilliance.
Buying diamonds
If you find yourself considering purchasing a diamond of your own after the tour, Gassan offers the unique option of designing your own jewel. Choose the setting and the cut, and your personal jewel will be ready in as little as 30 minutes!
Gassan watches
Gassan are not only famous as diamond cutters, but also for their position among the market leaders in the fields of Haute Joaillerie and Haute Horlogerie. On the ground floor, you will therefore find an extensive collection of jewellery and an impressive Rolex Boutique carrying a large range of the exclusive Swiss brand's models. Besides Rolex, Gassan also carries other brands, such as Jaeger-Le Coultre, IWC, Omega, Rado, Longines and Tissot.
Download the Gassan Diamonds voucher
Tours in more than 27 languages are held every day from 09.00 to 17.00. Download the voucher here for a tour with a cup of coffee or make a reservation for your own personal free tour here.
Editors' tip: Would you like to be pampered? Book the Gassan VIP Tour. You'll start your tour with a glass of champagne followed by a guided tour through the Gassan site and Rolex Boutique. Discover all about diamonds and the art of diamond cutting and ask a certified Rolex watchmaker all your questions. You can have your watchband cleaned free of charge. Finally, you will receive a unique Rolex goodie bag at the end of the tour. Book the VIP Tour at Gassan. 
Find out what's nearby
Address:
Nieuwe Uilenburgerstraat 173-175
1011LN Amsterdam
Visit the website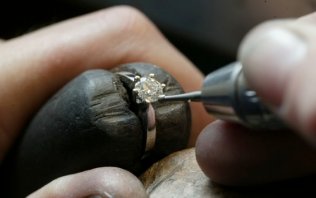 Heather Tucker
Amsterdam may no longer be the diamond capital of the world but the diamonds at Gassan still sparkle.
Read more
Watch this video: Gassan 121, More than Brilliant