Markets of Amsterdam
40,006 Views
Do you love strolling through markets, peeking at the merchandise and curiosities in stalls and searching for that special bargain or little treasure? These are Amsterdam's best markets.
Explore the largest outdoor market in Europe.
Find second hand treasures.
Feel like a local when strolling around the markets.
Albert Cuyp Market
The absolute number one is the 'Albert Cuyp' market in the district 'De Pijp'. It is the largest outdoor market in Europe. You can find anything from tropical fruit and fish to books and electronics here. The vendors are well known for their typical Amsterdam humor, which you probably won't escape from. The Albert Cuyp market is open every day of the week except Sundays.
Waterlooplein
The best flea market in town is located behind the 'Stopera' in Amsterdam. 'Waterlooplein' (Waterloo Square) is a flea market where you'll find old records, old photographs, vintage clothes, secondhand sunglasses and many fun curiosities. The Waterloo market is open every day of the week except Sundays.
Floating Flower Market
Along a part of the canal 'Singel' is the famous flower market. All the flowers and other merchandise are displayed on floating barges. Daily fresh flowers are brought in from the surrounding horticultural areas. Most tourists buy tulip bulbs for back home or typical Dutch souvenirs at one of the many souvenir shops opposite the market. The floating flower market is open every day of the week.
Noordermarkt
The 'Noordermarkt' is the neighborhood market 'Jordaan'. The market is a mixture of a flea-, antiques-, ecological- and biological market. The atmosphere is always very relaxed. You can visit the Noordermarkt only on Mondays and Saturdays.

Black Market The Bazaar
The largest indoor market in Europe is the Bazaar. It is a black market where you can find absolutely everything from furniture and electronics to fashion and cosmetics. Wandering through the Oriental Market it's like you're actually in the Middle East. The Bazaar is just outside Amsterdam in the town of Beverwijk. You can get there by taking a train from Amsterdam Central Station. The Bazar is open on Saturday and Sunday.
Free Market
Once a year, on the national holiday King's Day, thousands of free markets are held throughout the Netherlands. The most popular free market is held in Amsterdam in the city park 'Vondelpark'. If you are in Holland on April 27 you should definitely have a look.
Take a look at other attractions in Amsterdam or visit the Amsterdam page.
Accommodation tips
Would you like to spend the night in Amsterdam after a day of shopping at the markets? That's possible! Check out our offerings here.
All about: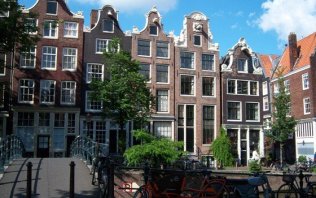 Undoubtedly one of the jewels of Europe, and not just because of the stunning 17th century canals. Go find out for yourself!
Read more
More in this region
Hip beach cafes and Ibiza-like surroundings are to be found in Bloemendaal

Read more

The largest flower auction in the world.

Read more

Discover what Schiphol Airport has to offer travellers.

Read more

After a visit to Zuid-Kennemerland you will understand why people have wanted to live in this area for many centuries.

Read more

Discover the best hotels near Amsterdam Airport Schiphol here.

Read more

The Cobra Museum in Amstelveen ensures that the avant-garde art movement CoBrA is kept alive.

Read more