Maastricht, the most pleasure-loving city in Holland, is the perfect destination if you want to enjoy life to the fullest. With its beautiful shopping streets, great restaurants and special museums, it is a place to love.
Visit Maastricht and enjoy the historic inner city with its beautiful shopping streets.
Enjoy the Preuvenemint, a four-day gastronomy festival at the Vrijthof.
Discover the wonderful churches, such as the Basilica of Our Lady and the Saint Servatius Basilica.
Pleasure-loving
Maastricht is an internationally oriented city with the zest for life of a worldly culture. From Amsterdam it is just a 2.5 hour drive to beautiful Maastricht in the south of Holland. People from around Europe have been visiting the city for religious reasons since the 11th century. Today, you can enjoy the countless plazas, cafes, restaurants, terraces, shops, cultural attractions, and events. More than any other city Maastricht will enchant you and make you enjoy life.
'Shop till you drop' in Maastricht
Maastricht has a rich history, which you can see in the Roman buildings and plazas in the old city centre. It gives the city a sense of charm and tradition. The museums display objects from the Roman era as well as the most recent modern art. You should definitely include the most famous art museum in Maastricht, the Bonnefantenmuseum, the Basilica of Our Lady and Saint Servatius Basilica in your schedule! The most exciting attraction in Maastricht is a guided tour of the centuries-old underground caves resulting from mining operations. If you would prefer to stay above-ground, consider a boat tour of the Meuse river.
Everyone who has ever been in Maastricht wants to go back, even if it is just for shopping. The compact inner city harbours hundreds of shops, from trendy little boutiques and luxury shops to interior decorating shops, art galleries, and antiques and specialty food shops. The Bookshop Dominicanen, the world's most beautiful book shop, is a must see. The shops are interspersed with street-side terraces where you can enjoy coffee with vlaai, a typically southern Dutch tart.
Maastricht and its surroundings
If you have time to spare, rent a bicycle or moped and explore the natural surroundings of Maastricht. With its hills and meandering streams, this landscape is different from anything else in Holland. Near Maastricht you can visit the white village of Thorn and the lively Valkenburg aan de Geul.
Maastricht has a growing reputation as a festival city. Carnival is obviously the most colourful feast of the year. Other events you should not miss are the 'Preuvenemint' four-day gastronomy extravaganza at the Vrijthof, and TEFAF, which is considered one of the world' most important art and antiques shows. Maastricht is well worth a visit throughout the year even without such special events.
To discover nearby
Not far from Maastricht you will find one of the oldest cities in Holland, Venlo, with its countless historic buildings in the Renaissance and Gothic styles. Well worth a visit. If you plan to go on a fashion shopping spree, visiting Roermond and the Designer Outlet Roermond are highly recommended. Another annual phenomenon nearby in Landgraaf is Pinkpop; Holland' biggest outdoor festival. Make sure to book your tickets well in advance!
Accessibility
Maastricht is in the southernmost part of Holland and still just about two hours away from Amsterdam or Amsterdam Airport Schiphol. Public transport is well organized in and around the city.
Accommodations
Visit Maastricht with its beautiful shopping streets, museums, 't Preuvenemint, and the Onze-Lieve-Vrouwebasiliek. Book your accommodation here.
Editors' tip:
In spring, when the asparagus tips start to peek from the soil, there are several bicycle routes through the area. You can see how asparagus are grown and harvested, and of course try them at the best restaurants. A wonderful excursion!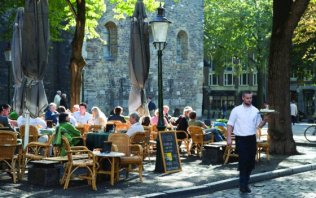 Maastricht has everything from modern art to an exciting labyrinth of tunnels. Find out more about Maastricht.
Read more
Watch this video: Maastricht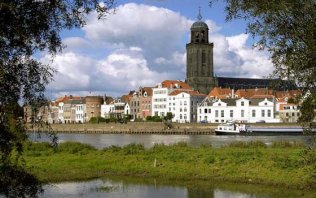 These cycling holidays will introduce you to the Dutch Hanseatic towns and cities.
Read more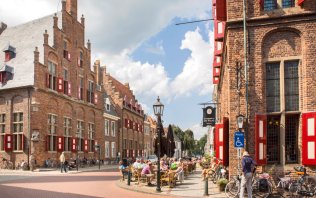 Discover more about the Hansa towns of Holland.
Read more