Frans Hals Museum
2,508 Views
In the 17th century, citizens wanted to capture their wealth and status on canvas. Portraits became popular and Frans Hals became known as the best portrait painter in the country. The Frans Hals Museum in Haarlem has many artworks of masters from the 16th and 17th century and is home to the world's biggest Frans Hals collection.
Admire the world's biggest collection of works by Frans Hals at the Frans Hals Museum.
See his famous civic guard paintings.
The Frans Hals Museum also displays art by other masters from the 16th and 17th centuries.
The Masterpieces of Frans Hals
Frans Hals is especially known for his 'schutterstukken'. These are group portraits of the ruling civil guards of that time. To be appointed to make their portrait was considered a great honor and was a very considerable task. Frans Hals was commissioned to create such an important work up to five times.

What made Frans Hals great was that he dared to be different. His paintings have a vivid likeness, typical setting and seem to be in motion. He knew how to capture a moment in time and bring it to life on canvas. Every time you look at one of Frans Hals' group portraits, it feels like you've just disturbed a moment between friends. 
Monet, Corbet and You
Frans Hals' work was of great influence in the 19th century. Great masters of impressionism, like Monet, Corbet and Manet, visited the Frans Hals Museum to admire his art. Now it's your turn to behold the masterpieces of Frans Hals and many of his contemporaries.
Visit the Frans Hals Museum
Blog: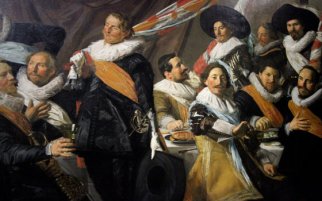 He's counted among the greatest of the Dutch masters: Frans Hals (1582 to 1666)
Read more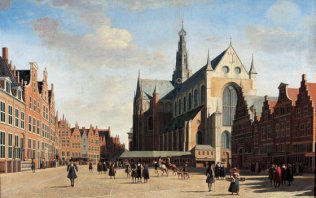 The Dutch Golden Age (17th century) was a period of tremendous wealth for the Dutch Republic.
Read more
Find out what's nearby
Address:
Groot Heiligland 62
2011ES Haarlem
Visit the website
Video City Film Frans Hals Museum
More in this region
The largest flower auction in the world.

Read more

Hip beach cafes and Ibiza-like surroundings are to be found in Bloemendaal

Read more

After a visit to Zuid-Kennemerland you will understand why people have wanted to live in this area for many centuries.

Read more

Discover what Schiphol Airport has to offer travellers.

Read more

Discover the best hotels near Amsterdam Airport Schiphol here.

Read more

The Cobra Museum in Amstelveen ensures that the avant-garde art movement CoBrA is kept alive.

Read more
Do you like this theme? You might also like: