Leeuwarden
Leeuwarden, royal city of the Frisian Nassaus
Friesland is the only region not to have any stadtholderless eras, and it was ultimately the Frisian branch that continued the Orange branch that died out in 1702. This is how the Orange-Nassau name arose.
Ancestors of the first king of the Netherlands
The first king of the Netherlands was crowned Willem I in 1813. His grandfather was Willem Carel Hendrik Friso, who was stadtholder of Leeuwarden until 1747. He went to The Hague in that year to become the heir of the entire Republic of the United Provinces of the Netherlands as Willem IV. This ended Leeuwarden's role as royal city, although Willem IV's mother continued to live in her Princessehof palace until her death. This is now the Princessehof Ceramics Museum, where one of the period rooms recalls its royal resident Princess Maria Louise van Hessen-Kassel (1688-1765).
The story of Maria Louise as regent
Maria Louise played a special role in the family's succession. She carried out the important role of regent twice. First as a young woman for her unborn son and later at the age of 71 for her grandson, who would become the first king of the Netherlands. She was so beloved by the Frisians that she was called Marijke Muoi, i.e. Aunt Marijke. This is just one story from the rich history of the Frisian Nassaus.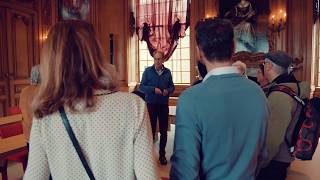 Watch this video: Leeuwarden, royal city of the Frisian Nassaus
Traces in the city
From the end of the 16th century, the Counts of Nassau lived in the Stadhouderlijk Hof located in the heart of the city. There were seven successive Frisian stadtholders. The Stadhouderlijk Hof remained the property of the royal family until 1971. In the Grote Kerk you should look for the Orange Gate and the balcony-shaped pew called the 'koningskraak'. The latter is a raised seat in the church, specially made for the stadtholder. The stadtholder and his family also had their own entrance at the back of the church. This Orange Gate can be recognised by the copper tree with orange apples. This gate gave them access to the family tomb in the church's crypt.
Royal
Leeuwarden Royal Package
Follow the royal line in the royal residence of the Frisian Nassaus ad learn a bit of Frisian…
Trendy Country Residence
In 1676, Princess of Orange Albertine Agnes van Nassau, widow of Willem Frederik van Nassau-Dietz, bought an existing country estate called Sickingastate along with three farms and named it Oranjewoud. Country residences like this were quite fashionable at the time. Following the example of the French, she had long lanes, canals and gardens built in the Baroque style. This estate was often visited by the stadtholders and current members of the royal family.