Visit the birthplace of De Stijl
Visit the birthplace of De Stijl
1,828 Views
Explore the history and influence of the De Stijl art movement in Leiden, the city in which Dutch artists Theo van Doesburg and Piet Mondrian initiated the movement in 1917.
Explore the historic Dutch city of Leiden, where Theo van Doesburg and Piet Mondrian launched the De Stijl art journal in 1917.
Pay a visit to a prototype of Theo van Doesburg and Cor van Eesteren's 'Maison d'Artiste'.
Discover the impact of De Stijl in 2017 as 20 international artists contribute to a large open-air artwork.
The birth of De Stijl in Leiden
De Stijl – translated simply as 'The Style' – was a major artistic movement in the 20th century and is regarded as Holland's most important contribution to modern art. It was in the historic city of Leiden, in 1917, where Dutch artists Theo van Doesburg and Piet Mondrian launched an artistic journal called 'De Stijl' to share their new artistic vision. Working closely with peers such as Bart van der Leck, J.J.P. Oud and Vilmos Huszár, their work soon became much more than a publication.
A growing group of Dutch and international artists and designers embraced De Stijl's ethos: to make a playful, visual and optimistic impact on people's lives, be it with paintings, interiors or architecture. The movement's most famous characteristics were geometric abstraction, juxtaposing the geometry of the straight line with asymmetry, and eye-catching primary colours used alongside non-colours.
The De Stijl art journal continued with Van Doesburg as its sole editor until its final issue in 1928. Undoubtedly, the movement's artists and artworks have now influenced the international art and design world for an entire century and continue to attract new followers.
Explore the region: Leiden
Just a short hop north of The Hague, Leiden is a city with a beautiful historic centre, an international outlook and a young, vibrant population of students. It was the birthplace of Rembrandt van Rijn, a home to the Pilgrim Fathers before they set sail for America, and even Albert Einstein was a frequent visitor to Leiden to meet with acclaimed theoretical physicist Paul Ehrenfest. The city is situated near the North Sea coast and is typically at its busiest in springtime when the flower fields in the surrounding area are in colourful bloom.
Getting around
Travel to Den Haag in less than 30 minutes
In under an hour you can reach Utrecht, Amersfoort, Brabant, Amsterdam or Schiphol Airport
Drachten is almost a 2-hour journey, although the route takes you across the Afsluitdijk, a 32 km sea dike, which is an engineering marvel and a breath-taking international attraction in itself
Accommodation
Experience the grandeur of historic Leiden by spending the night in the luxurious Villa Rameau, next to the iconic Pieterskerk.
We recommend
Discover the roots of De Stijl in Utrecht and Amersfoort. Visit the birthplace of Piet Mondrian and view the world's largest Gerrit Rietveld collection.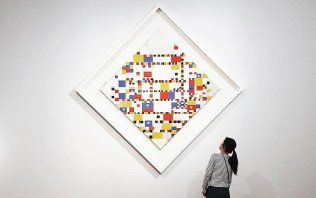 De Stijl was founded in 1917. Important members of De Stijl were Theo van Doesburg, Piet Mondriaan, Bart van der Leck, J.J.P. Oud, and Gerrit Rietveld. Learn everything about this art movement.
Read more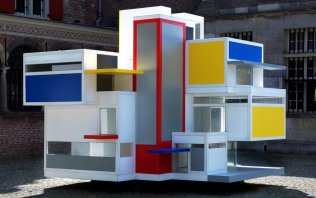 Do you like this theme? You might also like: