Not far from Amsterdam, on the edges of IJsselmeer lake, lies Volendam. This old fishing village is famous for its splendid harbour, fishing trade, authentic Dutch character and traditional clothing. In other words: it is a great place to visit, no matter the season!
Visit Volendam and admire the old harbour and authentic houses.
Stay in a holiday home in classic Volendam style on the edges of IJsselmeer Lake.
Try some fish in the harbour and have your photo taken wearing traditional Volendam clothing.
What to do in Volendam
Volendam is a fishing village well known for its characteristic, authentic houses. It is therefore best explored on foot, walking along De Dijk or through Het Doolhof, old quarters of Volendam full of maze-like streets that have attracted painters and artists from far and wide for centuries.
A visit to a museum is also something that any visit to Volendam should include. Visit Palingsound museum to discover how eels were smoked, or Volendams Museum to learn about Volendam's rich history and folklore.
Another memory worth making in Volendam is having your photo taken wearing traditional Volendam clothing – a great souvenir! Drop by Foto de Boer, at Haven 82.
Good food in Volendam
Volendam is full of small restaurants and cafes along De Dijk. Good food and good drinks are the standard, so try visiting restaurant Lotje by the harbour or Grand Café Restaurant De Dijk. And of course, no visit to Volendam is complete without trying some fish.  
Visit Volendam 
Volendam draws thousands of tourists every year. If you wish to visit Volendam in June, you have the options of combining your visit with the Volendammer Weekend and taking a trip to Marken and Zaanse Schans.
More in the area
Volendam is surrounded by various other attractive villages along IJsselmeer lake, such as Edam, Monnickendam and Marken. You can also visit the Alkmaar cheese market in the months of April through September, and if visiting Volendam in spring, do consider visiting Keukenhof to see millions of flowering bulbs.
Accessibility
Volendam lies slightly north of the Dutch capital of Amsterdam and Amsterdam Airport Schiphol, and is easily accessible by public transportation – the trip takes about half an hour. Volendam is also well within cycling distance, and the ride there is particularly enjoyable.
Accommodations
For your stay in Volendam, your choices include excellent hotels in Volendam such as Hotel Spaander or Marinapark Volendam holiday park. View our extensive range and book your ideal hotel in Volendam here!
Editors' tip:
Book a boat trip with the Volendam Marken Express to discover the village of Marken. Go see Sijtje Boes, wander through the ancient streets, and have a cup of coffee by the old harbour.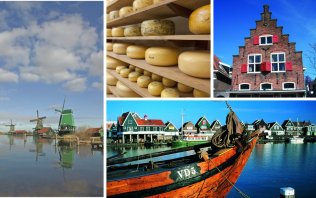 Discover the unique spots around Amsterdam at your own leisure. Visit the Zaanse Schans, Edam, Volendam, or a traditional cheese farm.
Book your ticket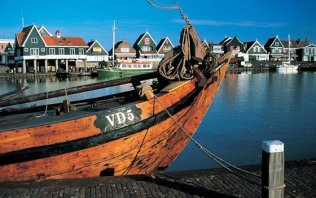 Together, they form one of the most gorgeous and authentic pieces of Holland.
Read more