Drenthe
The oldest remains of settlements in Holland were found in this province: the mysterious hunebeds. But Drenthe also boasts varied natural landscapes: peat swamps, heathlands and sand drifts. In short, Drenthe is well worth a visit.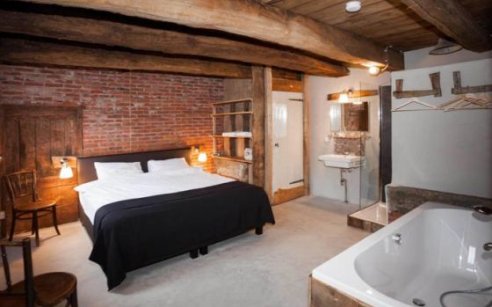 Check out the wide array of hotels, B&Bs and apartments in the province of Drenthe. Enjoy the beautiful natural landscapes, history and museums, or discover the province by bicycle by following one of the countless itineraries.
View the offer
Activities in Drenthe
A unique park that allows you to visit all the different corners of the world, go on adventures and see unique animals.

Read more

Visit the Drents Museum with its special archeological finds as well as historic and contemporary art.

Read more
Discover Drenthe
This province is known especially for its hunebeds: prehistoric grave monuments built from huge rocks that slowly shifted here from Denmark as a result of the ice age. But Drenthe has more to offer: the beautiful animal park Dierenpark Emmen and varied landscapes with long cycling and hiking routes. 
Nature in Drenthe
The province boasts as many as three national parks, including the second largest in Holland: The Drentsche AA. Here you will find a varied landscape of forests, heathlands, sand drifts and hayfields. This national park also houses the only archaeological reserve in Holland: The Strubben-Kniphorstbosch. Discover the hunebeds and old grave-mounds here. Other national parks in Drenthe are the Drents-Friese Wold and the Dwingelderveld.  
Activities in Drenthe
Thanks to the beautiful, varied natural landscapes, there are lots of activities in Drenthe. How about a canoe or a survival tour in the forests? Drenthe also has a number of great cities, including Assen, Emmen, and old Coevorden. There are great activities available here, too, such as Wildlands Adventure Zoo Emmen and TT Assen.
Accessibility of Drenthe
There are nine train stations in the bigger towns and cities of Drenthe. Smaller towns and villages always have good bus connections. If you want to go to one of the nature reserves by public transport, it's possible but in most cases you will still have to walk part of the way. By car, it is about two hours from Amsterdam and Schiphol to Assen or Emmen.