Flevoland
Flevoland, near Amsterdam, is the biggest land reclamation project ever. It has added a beautiful 12th province to Holland. There are wide open nature reserves, such as the Oostvaardersplassen and Horsterwold, wonderful beaches, great cities with modern architecture, museums for young and old, and the largest flower bulb region in Holland!
Find out more about the largest land reclamation project in the world

Read more

One of the newest nature reserves of the Netherlands has rapidly developed itself into an area of global significance.

Read more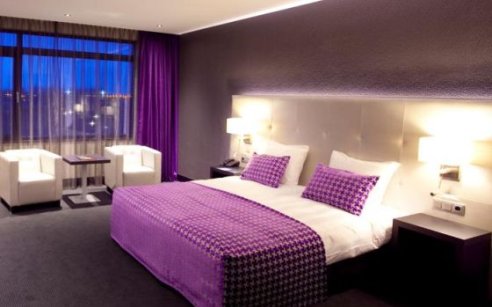 Check out the wide array of hotels, B&Bs and apartments in and around Flevoland. Enjoy the multifaceted destination of Flevoland with its beautiful natural landscapes, history, water sports activities, and modern architecture.
View the offer
Activities in Flevoland
Shop for the best brands at the lowest prices here.

Read more

Dare jump into these wild rides and rollercoaster's.

Read more

Discover the longest and most colourful tulip route in Holland.

Read more

From prehistory to water management of the future: discover Batavialand!

Read more
Flevoland details
Flevoland came into being in the 20th century when a dam transformed the Zuiderzee into the IJsselmeer lake, and is Holland's newest province. And it's beautiful!
Nature in Flevoland
Flevoland is characterized by beautiful nature reserves with unique flora and fauna. It has the biggest single deciduous forest in western Europe and wide open morass regions in which unique animals live. Countless waterfowl breed here, and you can even encounter several of Holland's 'big five' wild animals (roe deer, red deer, wild boar, seal and beaver) on a regular basis.
Activities in Flevoland
There are a lot of cultural attractions in Flevoland as well. From UNESCO World Heritage Site Schokland and the former island of Urk, to museums like Bataviawerf and Nieuw Land Erfgoedmuseum in Lelystad, where you can learn all about the beginnings of Flevoland. Moreover, the city of Almere is one of the three architectural cities in Holland where you can also enjoy great beaches for recreational and water sports activities. If you like shopping, then don't miss out on Bataviastad, Holland's biggest fashion outlet! In short, Flevoland is a multifaceted destination for a great holiday with the entire family.
Accessibility of Flevoland
The province of Flevoland is easily accessible by public transport and car. From Amsterdam, it is a 20 minute drive to Flevoland. From Amsterdam Schiphol Airport, you can get to Lelystad by public transport in just one hour. There is also a direct train connection from Amsterdam to Almere and Lelystad.
Watch this video: Flevoland