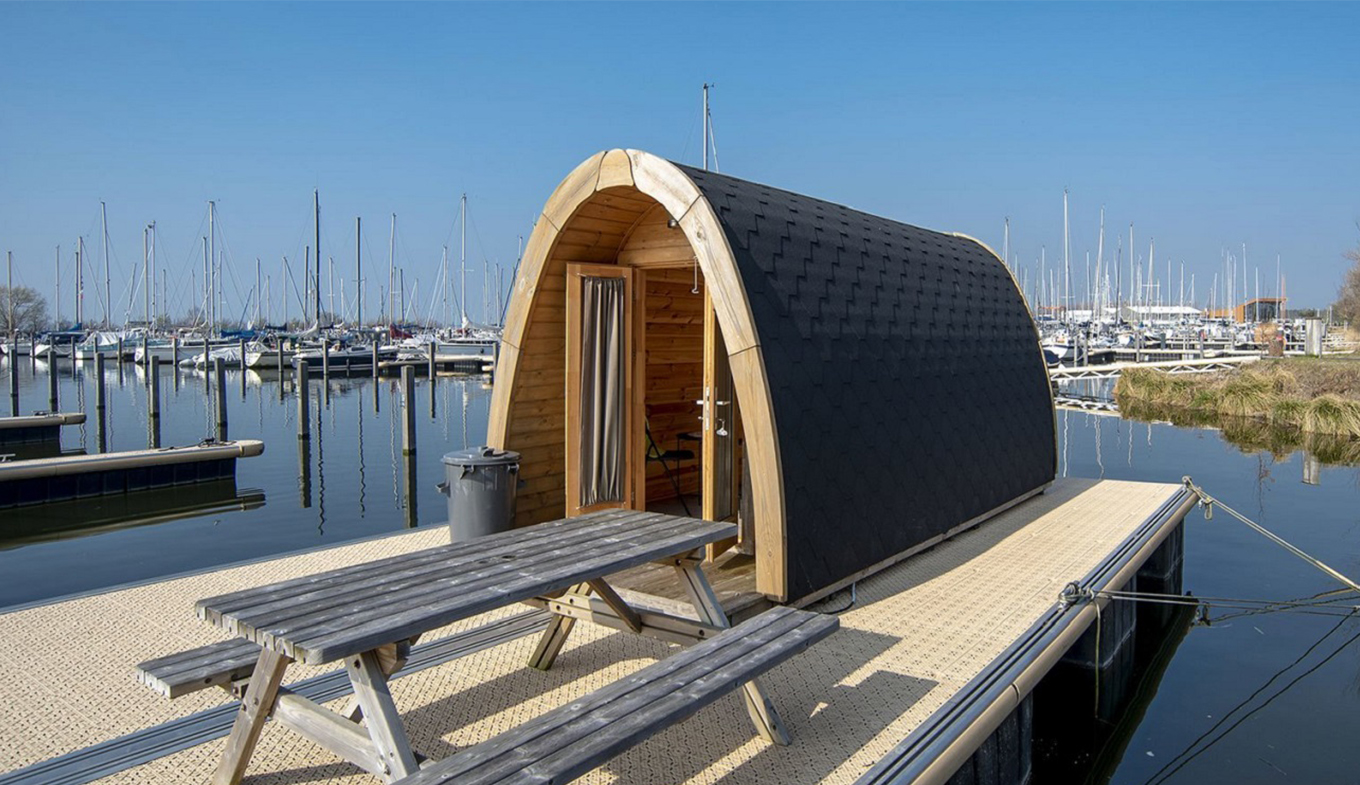 Flevoland
5x spending the night off and on the water in Flevoland
Spend the night on the bank of IJsselmeer lake or even on the water in the harbor. The gentle waves will rock you to sleep. Or would you prefer to wake up on the beach? This is possible in Flevoland, too. Check out the five top accommodations near Almere, Lelystad and Urk.
Wake up to a gorgeous view of IJsselmeer lake
Enjoy a unique spot surrounded by ships in the harbor
Choose a comfortable boat house or a romantic safari tent on the beach
Our 5 tips to wake up to a view of the water:
1. B&B Zicht op Zee
The people of Urk have been making a living as fishermen on IJsselmeer lake for centuries. B&B Zicht op Zee offers a warm welcome to its accommodation in the harbour. You will enjoy the lovely view of the fishing boats and traditional ships. Admire the bustle and the setting sun over IJsselmeer lake.
Address: Wijk 1-32, Urk
2. Hotel De lange Jammer
This centuries old building houses a modern three-star hotel overlooking Lelystad-haven. De Lange Jammer has an intimate ambiance, encompassing several small houses with private rooms. After a day on cycling or shopping, it is wonderful to relax in the evening sun on the lawn and in the garden.
Address: Pioniersstraat 15, Lelystad
3. Marinaparcs Almere Muiderzand
The floating 'water bubbles' offer basic features with a lovely soft bed. What makes this accommodation so special is the lapping water and waking up amid the yachts docked in the marina. Would you prefer to sleep on dry land? Book your stay in a safari tent on the beach and let the singing birds wake you up in the morning.
Address: IJmeerdijk 4, Almere
4. Hajé Hotel-Restaurant de Aalscholver
This hotel and restaurant can be found off the A6 motorway between Almere and Lelystad. Spend the night in their unique hotel ark on the water. Sit down on your veranda and enjoy the lovely view of the surrounding natural landscapes. This is also a perfect spot to follow the hiking and cycling paths through nature.
Address: Rijksweg A6, parkeerplaats de Aalscholver 2, Lelystad
5. Boothuisje Marina Eemhof
Sleep on a boat with all the comforts of an apartment! The boat home accommodates six persons and is equipped with every amenity for a pleasant stay. It even boasts a wood stove, dishwasher and oven. You will spend the night on what is almost the southern tip of Flevoland in the Eemhof Marina.
Address: Slingerweg 9, Zeewolde