In the Noordoostpolder (North-East Polder) in Flevoland lie two unique "dry-land islands", Schokland and Urk. These archaeological locations, which have been inhabited for centuries, show how Holland and water have always been connected.
Visit the UNESCO World Heritage Site of Schokland and discover its many archaeological sites and national monuments.
Walk through Urk's alleyways and have a fish in the pleasant harbor.
Find out everything about the history of Flevoland in Batavialand.
What is there to do in Schokland and Urk?
Schokland, a centuries-old island in the former Zuiderzee, has been dry since the reclamation of the Noordoostpolder. With many national monuments and unique dwelling mounds, Schokland is an impressive place. Over 160 archaeological sites show the development and culture of Schokland's inhabitants, from hunter-gatherers to farmers to polder inhabitants. In 1984, human footprints of over 4000 years old were actually found there! These footprints can be admired in Museum Schokland.
For centuries, Schokland was a densely populated island where people made a living through fishing and overseas trade. But the ongoing battle with storm surges and floods forced the people of Schokland – with the exception of the lighthouse keeper – to leave the island. Later, when parts of the former Zuiderzee, now IJsselmeer lake, were reclaimed, Schokland lost its function as a beacon for ships and became an island in the polder. This former island is the first Dutch site to be included in UNESCO's List of World Heritage Sites.
Urk also has a history that stretches back many centuries, and that history can still be felt in its culture. In this atmospheric fishing village, people still speak a dialect, and you can take wonderful walks through its old alleyways (known as ginkies). It has a pleasant harbor where you can enjoy fresh fish, and a visit to the lighthouse, the monuments and the museum are also highly recommended. Taking a boat trip across the IJsselmeer is also something everyone should have experienced in their lives. Bear in mind, however, that Sunday is a resting day to the religious people of Urk, so you'd best go on a weekday or on Saturday.
Both 'islands' are gorgeous locations full of splendid culture and history.
More in the area
If you're visiting Schokland and Urk, we highly recommend also visiting Batavialand. Here, you will learn everything about Flevoland's history and origin and find out more about Holland's nautical history. A visit to the Oostvaarderplassen nature reserve or the pleasant Hanseatic Town of Kampen is also highly recommended.
Find more information here
Discover Schokland and Urk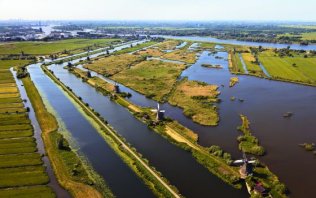 No less than 26 per cent of our country lies below sea level. See and experience how we manage and enjoy our water in a variety of places.
Read more
Watch this video: Schokland and Urk