In Holland's newest province, Flevoland, lies the former island of Urk. This gorgeous fishing village has a unique history and culture and offers much fun and atmosphere by the water's edge.
Walk through a labyrinth of alleyways (ginkies) in the old village center.
Eat a fresh or smoked fish by the harbor and enjoy the splendid view.
Take a trip on the water on an original botter fishing ship, or on the ferry to Enkhuizen.
What is there to do in Urk?
The fishing village of Urk is centuries old and has a unique history and culture. The Urk dialect is still spoken there, and you can take wonderful walks through the ancient alleyways (known as ginkies) and streets. In the pleasant harbor, you can relax on a terrace and enjoy delicious smoked IJsselmeer eel or a freshly baked fish from the fishermen of Urk.

A visit to the lighthouse, the museum, the monuments and the IJsselmeer fish market are also highly recommended. A trip across the IJsselmeer lake – the former Zuiderzee – on an original botter type fishing ship or the ferry to Enkhuizen is an experience you really don't want to miss out on. Bear in mind, however, that Sunday is a resting day to the religious people of Urk, so you'd best go on a weekday or on Saturday.
More in the area
Not far from Urk lies the UNESCO World Heritage Site of Schokland, a historic archaeological location with many national monuments and over 160 archaeological sites. You can see the development and culture of Schokland's inhabitants, from hunter-gatherers to farmers to polder inhabitants. Another recommended activity is a visit to Batavialand. Here, you can learn all about the origin of Flevoland and find out more about Holland's nautical history.
Accessibility and parking in Urk
Urk lies in the province of Flevoland, about an hour's drive from the capital city of Amsterdam and Amsterdam Schiphol Airport. Urk's harbor area offers a large and free parking terrain.
Editors' tip
Another way to discover the islands of Schokland and Urk and their surroundings is, of course, through the very Dutch means of the bicycle. There is a beautiful route, the Zuiderzee-eilandenroute (Zuiderzee Islands Route), which leads past the former islands, the architects' village of Nagele and various splendid museums.

Spend the night near Urk
In Urk itself are not a lot of accommodations where you can stay, but there are many places real close with great hotels. In Emmeloord for example are nice hotels with many facilities.
Rent a boat or take a boat tour and experience a wonderful feeling of freedom on the waters of Flevoland.

Read more

Rent a boat or go on a boat tour through protected nature and past the unique polders of North Holland.

Read more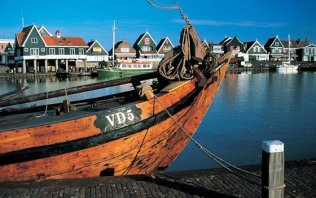 Together, they form one of the most gorgeous and authentic pieces of Holland.
Read more