Woudagemaal Lemmer
Photo: © Cuno de Bruin en Sjoerd Bracke via Merk Fryslân
Around the UNESCO World Heritage Site the Woudagemaal, there are countless options for heading out onto the water to sail across IJsselmeer lake and the Frisian Lakes. In the bay of Lemmer, you'll have a unique view of the steam-powered pumping station.
The Frisian Lakes comprise no fewer than 35 lakes, with a surface of 9300 hectares
Sail past ancient Zuiderzee towns along IJsselmeer lake
Visit the oldest still-functional steam-powered pumping station in the world
International fame
Friesland is internationally famous for its waters – it is home to the largest network of interconnected lakes, canals, ditches, ponds and rivers in Europe.
The Frisian Lakes
Like National Park Weeribben-Wieden, the area of the Frisian Lakes was formed over the past centuries by excess water and peat excavation. Now, it is a paradise for water lovers, thousands of whom come from far and wide to visit the area.
Take a boat tour or rent a boat
There are several places in Lemmer where you can rent a boat or take a boat tour. Take a trip on the authentic lemsteraak (a Frisian type of sailing boat) the LE50 or step aboard the MS Waterpoort for a boat tour. Would you rather cruise the Frisian waters yourself? Watersportcentrum Tacozijl rents out all kinds of ships, from sloops to fishing boats and from sailboats to motorboats.
Editors' tip
Try exploring the Frisian wetlands by bicycle as well. You will be stunned by the splendid vistas of the lakes, and enjoy the landscape and nature.
Addresses
D.F. Woudagemaal, Gemaalweg 1a, 8531 PS Lemmer, T +31 (0)514 561 814
Watersportcentrum Tacozijl, Plattedijk 20, 8531 PE Lemmer, T: +31 (0) 514 562 003
Lemsteraak LE50, Binnenhaven 1, 8531 DS Lemmer, T: +31 (0)514 562 300 of +31(0)6 5386 4400
MS Waterpoort, Kortestreek, Lemmer, T: +31 (0)515 413 819 of +31 (0)6 1097 0099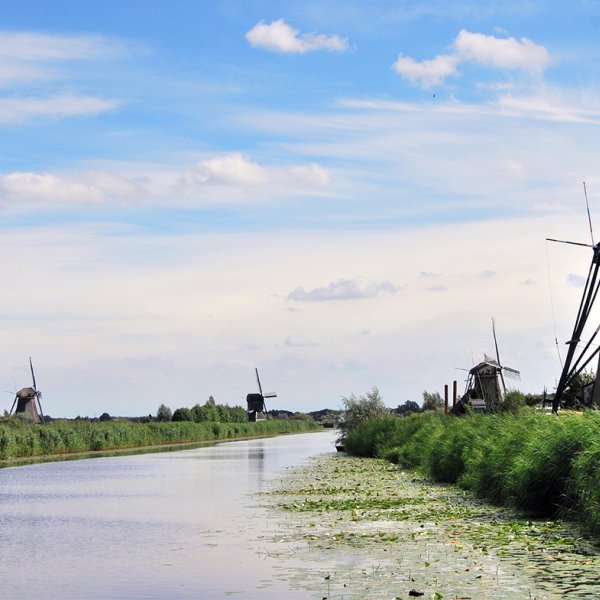 Living on and with the water
Dutch culture is closely interwoven with the water. Discover the rich history, meet local and international water heroes, and travel along to the most iconic places. Immerse yourself in the story of the Netherlands, Land of Water.
Read more