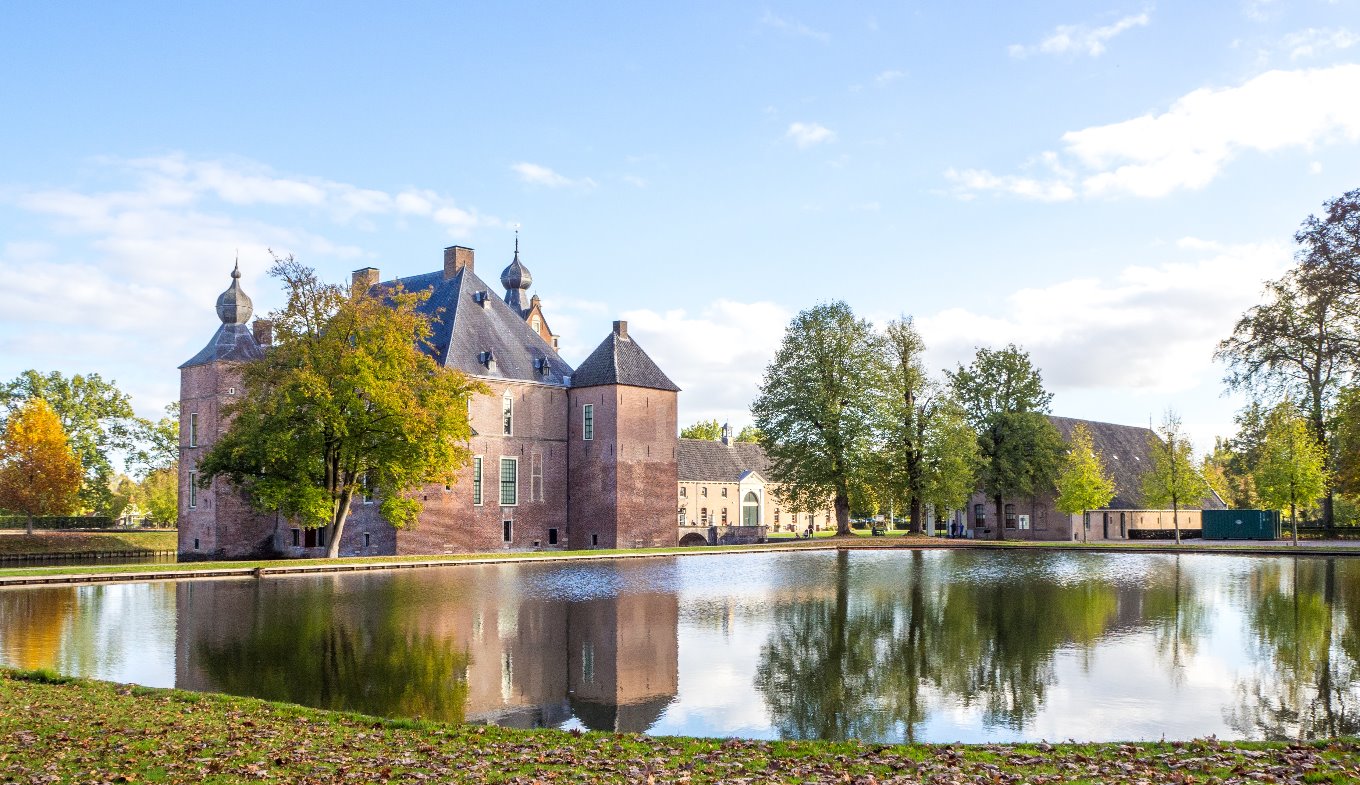 Photo: © Wim van 't Einde
The beginnings of Cannenburch Castle
Maarten van Rossum lived in the 16th century and was a dreaded leader of the Gelderland army. He built the castle around 1543 on the foundations of a medieval ruin. However, his untimely death from the plague meant that Van Rossum never saw the completion of his fortress. In the front courtyard, a bronze statue of the general can be found sitting contentedly on a bench, surveying his surroundings.
© Wim van 't Einde

Terrace in front of Castle Cannenburch

Castle Cannenburch

Castle Cannenburch
Experience the museum in Cannenburch Castle
Like many of Holland's castles and country houses, Cannenburch Castle is now home to a museum with an authentic 18th-century interior. Paintings, porcelain, furniture and numerous other familiar utensils are on display here. In fact, many objects are originally of the castle itself. One of the most special pieces is the baptismal cup of Elbert van Isendoorn. Dating from 1601, it is made from a silver-plated coconut, which at the time was something exotic and thus very precious. Also of note are the many 17th- and 18th-century family portraits, and the dining room with its 17th-century beamed ceiling, richly decorated with clouds and birds.
On the grounds there still stands an outbuilding which formerly served as living quarters for staff, and was also used to store the harvest or stable the horses. Here you can experience how the Cannenburch servants used to live, and see the 19th-century steward's house and castle farm.
Learn even more with the digital guide app
A visit to the castle, outbuildings and park can all be accompanied by an audio tour or mobile app. Let the original inhabitants of the castle take you back in time to the life of a family of 18th-century nobles. Children will be delighted by paintings that come to life, as well as the mysterious castle attic. Enjoy a cup of coffee in the castle's vaulted cellars, or treat yourself to something from the extensive menu of the nearby Restaurant t' Koetshuis. For a souvenir or gift, be sure to drop into the castle shop before leaving.
Opening times & prices
The castle is open from 1 April until 31 October, from Wednesday to Sunday, 12:00-17:00. Adults: €9.50; Children (4 to 17 years): €5.25; Audio tour: €2 The park is open year-round, from sunrise to sunset.