Gelderland is the largest province in the Netherlands. The province has numerous characteristic highlights that are worth a visit. Take for instance the National Park De Hoge Veluwe, the Achterhoek region and the cities Nijmegen and Arnhem.
Gelderland is Holland's biggest province.
Visit The National Park de Hoge Veluwe.
Enjoy beautiful natural landscapes.
Highlights of Gelderland
The National Park De Hoge Veluwe is without a doubt the natural highlight of Gelderland. Jump onto one of the free-to-use bikes and explore the breathtaking nature and wildlife. Don't forget to visit the Kröller-Müller Museum. If you're looking for culture and attractions you should head to the cities Arnhem and Nijmegen. Here you'll find a wide range of activities, zoos and museums.
Visit Gelderland
From the animals of Burgers' Zoo, Dolfinarium and the Apenheul, to the educational experiences of the Netherlands Water Museum and Netherlands Open Air Museum and arts and culture at the Modern Art Museum and Kröller-Müller Museum; Gelderland offers enough outings to keep you busy. The culinary specialties of Gelderland are the delightful game dishes served in autumn in the Achterhoek region.
Holiday in Gelderland
Book a holiday home in Gelderland here.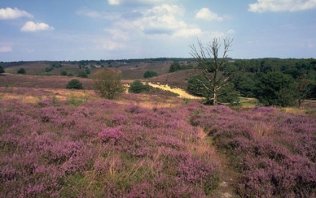 If you're looking for a holiday bursting at the seams with natural beauty, fascinating culture and culinary delight, then you can't go wrong in Gelderland's four regions: the Veluwe, the Arnhem-Nijmegen area, Rivierenland and the Achterhoek.
Read more