Beautiful nature and wonderful wellness centres can be found throughout Holland. Including in the beautiful wooded environment in the town of Voorst, which is located in the province of Gelderland. This is where you can have a relaxing experience at Thermen Bussloo, a beautiful centre with a unique, somewhat spiritual touch.
Facilities
Thermen Bussloo has an Eastern bath house and rose, infrared, panoramic and Finnish saunas, as well as a caldarium. Its facilities also include colour therapy, Kelo earth and four element saunas. In a nutshell, the centre offers plenty of variation for one or several days of pure relaxation.
Kailash ritual
The Himalaya salt crystal cave is hidden in the earth wall in Thermen Bussloo's beautiful garden. Be transported to a spiritual environment filled with colours, sounds and scents by a unique ritual called the Kailash. The wellness centre also organises special supine sound concerts several times per year. This involves relaxing on a mattress and experiencing ethnic sounds from around the world. It is a truly exceptional experience...
Spending the night at Hotel Thermen Bussloo
Find out what's nearby
Address:
Bloemenksweg 38
7383RN
Visit the website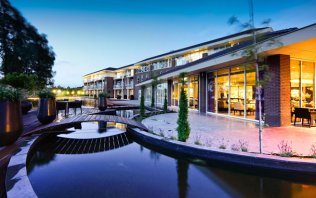 Relax and enjoy the quiet at hotel Thermen Bussloo. An underground passage takes you to the beautiful sauna, wellness and beauty resort for a lovely day of pampered pleasure.
Book now