Venlo, the second largest city in the province of Limburg after Maastricht, is truly a wonderful place! It is not just a beautiful historic city with plenty of beautiful monuments, but it is also extremely pleasant with its countless cafés and restaurants and plenty of shopping opportunities.
Visit beautiful monuments, such as St. Martinus church or the old city hall.
Enjoy Limburg's culinary traditions at one of Venlo's many restaurants.
Visit the unique monastery town of Steyl.
What to do in Venlo?
Since the Middle Ages, Venlo has been an important trading town on the Meuse river. It is one of the oldest cities in Holland and has much to offer to those who love history. Buildings like the Renaissance-style city hall and the Gothic St. Martinus church on Grote Kerkstraat are definitely worth a visit.
We also recommend the Limburgs Museum. They have a wonderful collection of paintings and movies and you should not miss the 'historoscope', which lets you experience 150,000 years of history in just 25 minutes.
If you want a break from art, culture and history, there are also ample opportunities to go shopping. The old inner city has a wide range of excellent shops for every taste and budget, as does the new Maasboulevard.

Spending the night in Venlo

Are you searching for a hip design hotel, a romantic bed & breakfast, or a pleasant holiday home for your family? Venlo has suitable accommodations for every taste and budget. Check out the comprehensive selection and book your perfect holiday here!
Editors' tip:
The monastery village of Steyl, which was established in 1875 near the Meuse river, is easily reached from Venlo. Its three beautiful monasteries make for a very special experience!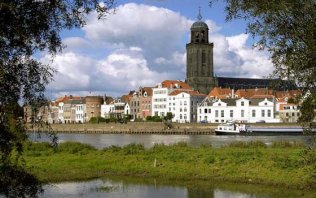 These cycling holidays will introduce you to the Dutch Hanseatic towns and cities.
Read more