Venlo, the second largest city in the province of Limburg after Maastricht, is truly a wonderful place! It is not just a beautiful historic city with plenty of beautiful monuments, but it is also extremely pleasant with its countless cafés and restaurants and plenty of shopping opportunities.
Visit beautiful monuments, such as St. Martinus church or the old city hall.
Enjoy Limburg's culinary traditions at one of Venlo's many restaurants.
Visit the unique monastery town of Steyl.
What to do in Venlo?
Since the Middle Ages, Venlo has been an important trading town on the Meuse river. It is one of the oldest cities in Holland and has much to offer to those who love history. Buildings like the Renaissance-style city hall and the Gothic St. Martinus church on Grote Kerkstraat are definitely worth a visit.
We also recommend the Limburgs Museum. They have a wonderful collection of paintings and movies and you should not miss the 'historoscope', which lets you experience 150,000 years of history in just 25 minutes.
If you want a break from art, culture and history, there are also ample opportunities to go shopping. The old inner city has a wide range of excellent shops for every taste and budget, as does the new Maasboulevard.
Where to eat in Venlo?
Limburg is known for its pleasure-loving lifestyle and good food is a part of that, of course. There are many great restaurants to choose from in Venlo. We have selected a few for you:
1. Chez Philippe
Pleasant, not too formal restaurant with an excellent menu. Chef Philippe serves French-style dishes and enjoys having a chat with his guests. A welcoming place that serves great food! Address: Parade 61, Venlo
2. De Kluis
Enjoy dinner at the oldest bank in Venlo. The kitchen serves beautiful dishes based primarily on regional produce. If the weather permits, you can eat on the rooftop terrace! Address: Klaasstraat 23B, Venlo
3. Antoni Gaudí
Enjoy Spanish food and great tapas in informal Spanish surroundings. Gaudí would have liked the extraordinary interior with its mosaic decoration! Here, too, you can enjoy your meal on a lovely terrace. Address: Picardie 6, Venlo
Editors' tip:
The monastery village of Steyl, which was established in 1875 near the Meuse river, is easily reached from Venlo. Its three beautiful monasteries make for a very special experience!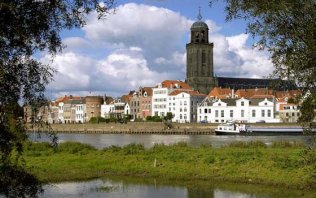 These cycling holidays will introduce you to the Dutch Hanseatic towns and cities.
Read more
More in this region
Castle Arcen also has beautiful castle gardens which treat visitors to an abundance of plants and dozens of bird species.

Read more

Stroll through an undulating natural landscape with altitudes of up to 80 meters above sea level.

Read more

Come golf in a natural setting in Limburg. On the links at De Herkenbosche you will walk amongst the scenic beauty of the De Meinweg National Park.

Read more