Van Gogh cycling route: 's-Hertogenbosch (length 30 km)
Van Gogh cycling route: 's-Hertogenbosch (length 30 km)
1,871 Views
Cycle the Van Gogh cycling route around 's-Hertogenbosch and discover the authentic landscapes of Brabant, as well as the growth and development Vincent van Gogh went through in his period here.
Cycle through the authentic landscapes of Brabant, the environment that inspired Van Gogh enormously
See Vincent van Gogh's works at the Noordbrabants Museum.
Part of the Van Gogh Cycling Route, which was elected European Cycling Route of the year 2016
The route
The 30 kilometer cycling tour starts at the Noordbrabants Museum. From here, you will cycle through the beautiful landscape of Brabant, discovering many places important to Van Gogh's life and work. Van Gogh grew up in a Protestant minister's family in the 19th century. One great stop along the way is the village of Helvoirt, where Vincent's father was minister for several years and where his uncles and aunts lived. Van Gogh made several sketches here in the summer of 1874: a chalk drawing of the Protestant church and a pencil drawing of a panoramic view of Helvoirt. The tower of the Protestant church is a central element in this drawing. The beautiful natural landscapes you will see also served as a source of inspiration for Vincent. Vincent's life long love of all that grows and flowers started in the nature-rich province of Brabant. While the 19th century was a period of restrained progress, Vincent was fascinated above all by the traditional farmer's life in Brabant.
The Noordbrabants Museum
The only location in Brabant where you can see original works by Vincent van Gogh is The Noordbrabants Museum in Den Bosch. The Vincent van Gogh Pavilion displays his 'Brabant work' and allows you to explore his life in this period. Among the famous works are the farm women from The Potato Eaters, his father's rectory, and the beautiful Brabant landscape. The route starts and ends at this wonderful museum. Reflect on the inspiring exhibition and cycling tour at the hospitable Museum Brasserie.
Addresses you will pass on the way
Start point The Noordbrabants Museum
Museumkwartier
Helvoirt's Protestant church
Saint John's Cathedral
Dragon Fountain
Statue of Jeroen Bosch
De Binnendieze
Verkade factory 
VVV
Heeswijk Castle
Practical information
Number of kilometers: 30
Nodes: 88-84-63-64-36-65-75-43-70-68-67-66-29-28
34-62-61-60-24-22-21-54-53 and back to 88
Start and end point: Het Noordbrabants Museum, Verwersstraat 41, s-Hertogenbosch
Find out what's nearby
Address:
Verwersstraat 41
5211HT Den Bosch
Visit the website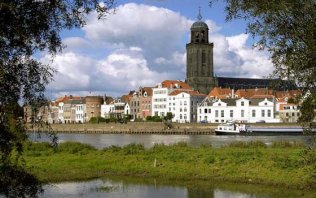 These cycling holidays will introduce you to the Dutch Hanseatic towns and cities.
Read more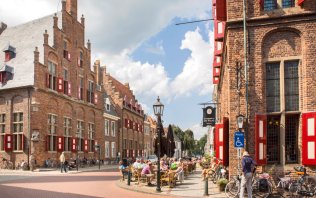 Discover more about the Hansa towns of Holland.
Read more
Do you like this theme? You might also like: