Bergen aan Zee
16,488 Views
The seaside town Bergen aan Zee, in the province of North Holland, draws thousands of tourists every year. Some people love Bergen aan Zee because of its beaches, others want to enjoy the natural environment, and some come for the artistic atmosphere. Bergen aan Zee is a lovely place throughout the year.
Bergen aan Zee, in the municipality of Bergen, is a lovely seaside resort with beautiful beaches.
When you are visiting in summer, make sure to visit an art fair in Bergen.
Walk or cycle through Holland's highest and broadest dunes to the north of Bergen aan Zee.
Bergen aan Zee is located in the municipality of Bergen
Bergen aan Zee is located in the municipality of Bergen. In addition to Bergen aan Zee, Egmond aan Zee is another seaside town in the municipality of Bergen. The municipality of Bergen is a part of National Park Zuid-Kennemerland. To the north, you will find Schoorl with its well known, beautiful Schoorlse duinen which have lovely bicycle routes.
What to do in Bergen aan Zee?
Bergen has been an artist village since the early nineteen hundreds. One famous international artist from Bergen is  Charley Toorop, for instance. Countless artists were attracted by the peace and space of Bergen and its beautiful location nestled amid the dunes and natural landscapes. They were inspired by their surroundings. The artistic school resulting from this development is called the 'Bergense School'. These works can be seen at the Kranenburgh museum (Hoflaan 26, Bergen).
In summer months, you can still visit many art and creative fairs. In October, Bergen always celebrates 10 days of art or the Kunst10daagse. Over 250 artists exhibit their paintings, sculptures, photography, etchings and ceramics in many locations throughout the city.
You should also include a wonderful walking or cycling route through the dunes when visiting Bergen aan Zee. Bergen aan Zee has the highest and broadest dunes in Holland (called the 'Schoorlse Duinen') which teem with beautiful flowers, plants and animals.
Where to eat in Bergen aan Zee?
On the beach, you will find the great beach pavilion SB Noord (address: C.F. Zeiler Boulevard 3, Bergen aan Zee) with its very distinctive interior! The restaurant has a comprehensive menu with flavourful regional products. If you want to enjoy the forested surroundings of Bergen, restaurant Bergen Binnen (address: Breelaan 130, Bergen) comes highly recommended. It has a beautiful and warm interior and serves excellent food.
Editors' tip:
If you want to try a great, typically Dutch treat, you should definitely try the 'poffertjes' at Duinvermaak (address: Breelaan 132, Bergen), so add it to your list!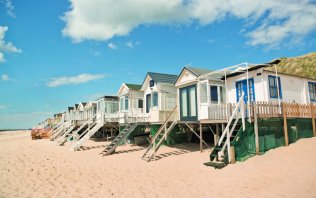 Holiday by the sea? Discover the many options here.
Read more
More museums in this region