Den Helder is situated in the northernmost tip of the province of North Holland. The town has a lot to offer, from beautiful nature to a naval base. Many activities are organized during the summer months. These include fleet days, markets and theater shows.
Visit this nautical city in the northern tip of North Holland.
From here, board the ferry to Texel.
Enjoy the beautiful natural landscapes around Den Helder.
The town is a part of the defense line 'De Stelling van Den Helder'. It was built in the Napoleon era. He thought Den Helder was perfectly located to become the 'Gibraltar of the North'. Construction of the defense line was completed under King William I. Today, the Royal Navy uses only Fort Erfprins. Fort Kijkduin is open to the public. The fortifications have been restored completely and now also offer a North Sea aquarium.
Nature reserves
Den Helder offers a great diversity in natural phenomena, from sea to dunes, from woods to polders to mud flats. Many of these places are managed ecologically. As a result, many areas around Den Helder have developed into unique nature reserves. Examples of these protected nature reserves are Grafelijkheids Dunes (around Kijkduin), De Nollen and the Balgzand Polder. Treasure-troves for lovers of nature.
Harbor and the Royal navy
Centuries ago, trading vessels and warships looked for shelter in the tidal inlets between Texel and Den Helder. As long ago as the late eighteenth century, plans were made for the construction of a naval port. The first harbor was completed in 1792. Various developments through the centuries have made the harbor the thriving port it is today.
During World War II Den Helder was bombed various times. After 1945 reconstruction of the town began. The Dutch government decided to make the harbor the base for its fleet, where the whole Dutch fleet could be moored. In the mid-1950s the postwar reconstruction was completed. Den Helder became Holland's naval port. The National Fleet Days are organized every year in Den Helder. During these days you can take a look behind the scenes of the Royal Dutch Navy.
Spend the night in Den Helder
In Den Helder you can stay in several great hotels and apartments near the sea. Check out our offerings here.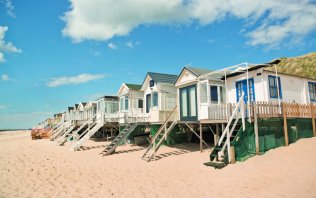 Holiday by the sea? Discover the many options here.
Read more