Egmond aan Zee
9,104 Views
Egmond aan Zee is one of the centers that make up the municipality of Egmond, which also comprises Egmond Binnen and Egmond aan de Hoef. The resort presents an ideal destination for a family holiday and offers a wide range of accommodation. Egmond and its surrounding district boasts an eventful history.
The history of Egmond
In Egmond aan de Hoef you will find the ruins of Egmond castle, the former residence of the Count of Egmond who was married to Jacoba van Beieren. The Count was a celebrated Dutch statesman, who was eventually beheaded for his ambitions on the Central Market Square in Brussels.
Egmond has close links with a number of monastic orders. There are three monasteries in the vicinity of Egmond which are still occupied, including the Abbey of Egmond at Egmond Binnen. This Abbey stood at the beginning of the conversion of Europe to Christianity.
Sightseeing in Egmond
Its location directly on the sea means Egmond boasts a promenade from where you can enjoy a sea view from your hotel and maybe even see the monumental "Van Speyk" lighthouse and the historic fishing cottages that determine the face of the heart of Egmond. Egmond is situated close to the historical town of Alkmaar, famous for its cheese market.
Spending the night in Egmond aan Zee
Are you searching for a hip design hotel, a romantic bed & breakfast, or a pleasant holiday home for your family? Egmond aan Zee has suitable accommodations for every taste and budget. Check out the comprehensive selection and book your perfect holiday here!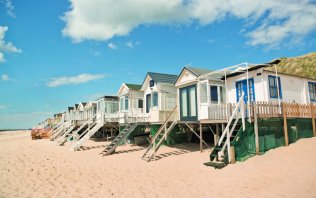 Holiday by the sea? Discover the many options here.
Read more