Hotels at Schiphol
430 Views
When you are flying into or from Schiphol, it could be nice to spend the night near the airport. For instance if your flight leaves or arrives early or you have to wait long for your connecting flight. Hotels near Schiphol are also a great base for exploring the surroundings.
Sleeping at the airport.
Near Amsterdam and the Keukenhof.
Perfect base for excursions and day trips.
Hotel Schiphol
Be well rested when you board your flight and book a hotel at Amsterdam Schiphol Airport. Spending the night at the airport saves valuable traveling time when you are flying early in the morning. You can also stay near the airport during your holiday in Holland and plan your day trips from here.
A hotel near Schiphol is a perfect base for several excursions and day trips. There are hotels in Badhoevedorp and Hoofddorp and at Schiphol which are near Amsterdam. Hotels are available in different price categories. The advantage of a hotel near Schiphol is that you can enjoy the peace and space outside the city within easy reach of the bustle of Amsterdam. Amsterdam is generally just fifteen to thirty minutes away.
Accessibility
Nearly all hotels near Schiphol run a shuttle service from and to the airport. You can catch a taxi at the airport and there is also excellent public transport from the airport. Rental cars can usually be parked free of charge at your hotel.
Excursions from Amsterdam Airport
Hotels at Schiphol are centrally located. The center of Amsterdam or the beaches of the Dutch coast are generally just fifteen to thirty minutes away. Cities like Leiden and Haarlem are also nearby and in spring you can easily catch a bus from Schiphol to the Keukenhof. The Holland Pass grants free access to a range of museums and attractions, as well as discount rates on public transport throughout Holland.
Accomodation tips
Modern design hotel within walking distance of the airport terminal. All rooms have a king-size bed, free Wi-Fi and free movie channel.

Schiphol, North-Holland

Check availability

Van der Valk Hotel A4 Schiphol is a 10 minute drive from Schiphol Airport and 20 minutes from the Keukenhof.

Schiphol, North Holland

Check availability
More museums in this region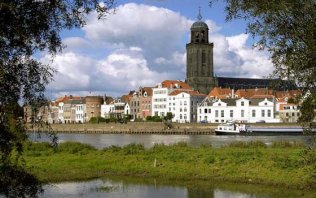 These cycling holidays will introduce you to the Dutch Hanseatic towns and cities.
Read more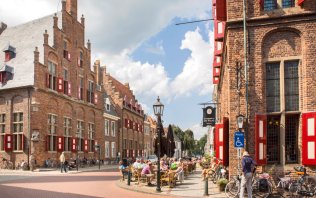 Discover more about the Hansa towns of Holland.
Read more