If you like wind and sweeping views, then Petten and its surrounding area are the place for you. This Dutch polder landscape offers peace and space in the true sense of the word. The dunes that used to protect Petten from the sea were destroyed in a storm and have since been replaced by a dyke: the Hondsbosche Zeewering.
Petten boasts one of the most beautiful beaches in North Holland.
Take a day trip from the North Sea coast to the IJsselmeer lake.
Rent a bike and see the colorful bulb fields around Petten.
The dunes of Petten
To the south of the Hondsbosche Zeewering, close to Schoorl, lies the widest and highest dune range in the country. The area offers limited accommodation only which means it is regarded as a quiet and particularly friendly holiday destination. The Province of North Holland stretches long and narrow, especially around Petten where beautiful day trips are available from the North Sea coast to the coast of the IJsselmeer which features lovely cities like Hoorn, Enkhuizen and Medemblik. Alkmaar is also within easy reach.
Acitivities in Petten
Besides Petten's natural surroundings there are all kinds of activities you can enjoy. You can play midgetgolf or enjoy watersports, including kiting or speeding over the water with a powerboat. In spring the tulip bulbs burst into life in the limy and sandy soils that lie between the dunes and the North Holland polder. It's highly recommended to rent a bike and cycle through the colorful fields around Petten.
Spending the night in Petten
Are you searching for a hip design hotel, a romantic bed & breakfast, or a pleasant holiday home for your family? Petten has suitable accommodations for every taste and budget. Check out the comprehensive selection and book your perfect holiday here!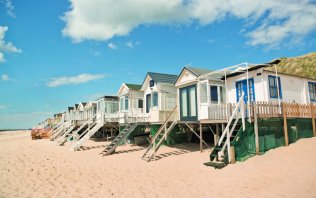 Holiday by the sea? Discover the many options here.
Read more
More museums in this region