The Afsluitdijk
12,575 Views
The Afsluitdijk
Ride across the Afsluitdijk between North Holland and Friesland: 32 kilometers between sea and lake.
Read more
Windmills, polders, sluices and pumping stations… Holland has a unique history when it comes to water management. But the most impressive example is probably the Afsluitdijk.
Enjoy a unique view.
Cycle along the 32-kilometre-long Afsluitdijk.
With 300,000 visitors per year, the Afsluitdijk is one of Holland's most popular water engineering constructions.
Enjoy a beautiful view
These days, the Afsluitdijk is more than just protection against floods. It is also a motorway used by thousands of people every day. You can drive, cycle or walk from one end to the other and enjoy the splendid view: on one side, the Wadden Sea, on the other, IJsselmeer lake.
You will pass by the Cornelis Lely monument about 8 kilometers from the North Holland side of the Afsluitdijk. He was responsible for the largest land reclamation project in history: the creation of Flevoland. There, you can drink a cup of coffee at Lunchroom Het Monument, which features a watchtower designed by Dudok.
From sea to lake
The 32-kilometre-long Afsluitdijk, built between 1927 and 1933, is an important part of the Zuiderzee Works and connects the provinces of Friesland and North Holland. It also changed the saltwater Zuiderzee into the freshwater IJsselmeer. The Zuiderzee Works consisted of two parts. In the first stage, the Zuiderzee was dammed, turning it into a freshwater lake. The second part of the plan was the reclamation of new land. This meant that, after the Zuiderzee had been closed off, the entire new province of Flevoland was reclaimed from the waters.
More in the area
Are you crossing the Afsluitdijk, and do you want to see more of the area? Then we highly recommend famous Zuiderzee settlements in Friesland such as Makkum, Stavoren and Hindelopen or the sea port of Harlingen. Other great places to visit are such authentic fishing towns as Enkhuizen and Hoorn (in North Holland), where you can enjoy some delicious fish in the harbour and stroll through centuries-old streets.
Editors' tip
Right by the Afsluitdijk, you will also find the Wad, a unique UNESCO World Heritage Site where, at low tide, you can enjoy fantastic mudflat hiking. However, make sure that you have a guide, or that you are well aware of the dangers involved.
Find more information here
Discover the area
Find out why this part of Friesland is a feast for boaters, cyclists, hikers and bird watchers.

Read more

Mud walking is the most exciting way to explore the unique nature reserve, the Wadden Sea.

Read more

6 days of cycling through all the peace, quiet and history of Friesland.

Read more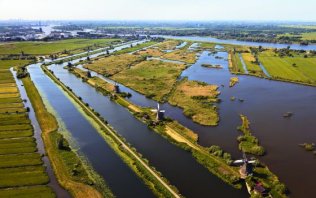 No less than 26 per cent of our country lies below sea level. See and experience how we manage and enjoy our water in a variety of places.
Read more
Watch this video: The Afsluitdijk
Search for your holiday home
Check out our extensive offers.
2000 holiday homes throughout Holland.
On the coast, in a natural environment or near cities
Do you like this theme? You might also like: