Museum Oud Amelisweerd
187 Views
Museum Oud Amelisweerd, a ten-minute train ride from Utrecht, is a property and estate that dates back to the 13th century. In fact, the Amelisweerd estate once belonged to Louis Napoléon Bonaparte, King of Holland as Louis II. Today, however, the grand house, set amidst a beautiful country park, is famed for its collection of 18th-century Chinese tapestries and contemporary art.
Explore history and art at this beautiful country estate.
See historic Chinese tapestries and contemporary Dutch expressionism at the museum.
Walk in the footsteps of Louis Napoléon Bonaparte, King of Holland.
The history of Oud Amelisweerd
Like so many of Holland's castles, palaces and stately homes, Oud Amelisweerd has seen its fair share of famous visitors and residents. After all, it has existed in various forms since the 13th century, eventually rebuilt around 1770. From 1808 to 1810, the entire Amelisweerd estate was actually owned by Louis Napoléon Bonaparte, then King of Holland as Louis II. He was planning to make it his royal residence: he himself would take up residence at Oud Amelisweerd, while his guard would stay at the nearby country house Nieuw Amelisweerd. In the end, however, Louis only spent eight days on the estate.
In more recent times, the house and neighboring coach house had fallen into a state of disrepair after periods lying disused. But following new investment and modernization, Museum Oud Amelisweerd opened its doors in 2014, while restaurant De Veldkeuken opened in its historic coach house.
Old and new art in Museum Oud Amelisweerd
The two largest halls on the bel étage of Museum Oud Amelisweerd (MOA) showcase the museum's spectacular large-scale Chinese tapestries. Hung at their original location within the stately home, they show Chinese nature motifs, hunting scenes and a dragon boat race. The tapestries were made in Canton between 1750 and 1770 and came to Holland onboard one of the ships of the Dutch East India Company.
Today, the guiding principle of the museum's contemporary art collection and visiting exhibitions is to explore the essential and universal relationship between man and nature in the past, present and future.
Opening times
Opening times: Tuesday to Sunday, 11:00-17:00; tours on request
Prices: Adults €12, children (9-18 years) €6
We recommend: Live the dream by staying overnight in a Dutch castle: book your stay at Stayokay Landhuis Rhijnauwen, situated in a picturesque woodland area in Bunnik, near Utrecht. The estate dates from the 13th century, with the current manor house being constructed in the 18th century. Guests can spend the night steeped in history (without the steep price tag) in comfortable hostel accommodation that ranges from two-person private rooms to group dormitories.
Find more information here.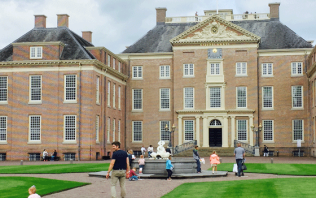 Come face to face with history and grandeur in Holland's castles and country houses.
Read more
More in this region
Visit the Witches Weighhouse and discover the witch in your family!

Read more

Zuylen Castle is one of the treasures of the Vecht region, and a place that has remained unchanged since 1752. Visit Zuylen Castle and feel like you've taken a trip back in time to the 18th century.

Read more

Groeneveld Castle has truly breathtaking gardens. You can also explore the scenery around Groeneveld with a forest ranger from the Dutch Forest Service.

Read more

Be enchanted by the largest castle of Holland.

Read more

The former residence of Princess Beatrix is just a stone's throw from Soestdijk Palace.

Read more

Cycle or walk along the fortresses of the 19th century fortification and combine nature with monuments.

Read more

See the most beautiful wild animals and pet a snake or tarantula.

Read more

The former palace of the Royal Family in Baarn.

Read more

Explore the loveliest windmills and greenest pastures amid beautiful historic cities.

Read more
Do you like this theme? You might also like:
Soak up centuries of history and stories from the region in this imposing museum castle.

Read more

From Golden Age history to modern art, Ruurlo Castle in Gelderland is a memorable daytrip.

Read more

From historic telescopes to cultural artefacts, step into the Dutch Golden Age at Hofwijk.

Read more

Get a taste for life as it was in the Dutch Golden Age at Keukenhof Castle and its gardens.

Read more

Travel through time by way of gardening styles in the beautiful grounds of Warmelo Castle.

Read more

Experience art, nature and architecture at this country estate and art museum near The Hague.

Read more

Enjoy riverside nature, a landscaped park and an art and antiques collection at this country estate.

Read more

Explore this palace and its lovely gardens, offering a lesson in centuries of landscaping history.

Read more

Explore the iconic hunting lodge designed by Berlage, situated in the Hoge Veluwe National Park.

Read more

Bring the middle ages back to life at Ammersoyen Castle and explore its historic interior.

Read more

Explore the historic castle and park, admiring vibrant collections and the eye-catching fountains.

Read more

Visit the museum and park of this imposing Dutch castle, dating from the 16th century.

Read more

Trace the history of landscaping back to the Renaissance in Twickel's luxurious parks and gardens.

Read more

Step into a world of opulence and uncover a wealth of history and art in the castles of Holland.

Read more

Visit the beautifully-designed gardens that surround Holland's historic castles and country houses.

Read more

Dine like royalty at a castle or estate. See the best places for an elegant meal in regal settings.

Read more