Trace the roots of De Stijl
Trace the roots of De Stijl
2,556 Views
The Utrecht and Amersfoort region is the birthplace of four of De Stijl's most influential figures: Piet Mondrian, Theo van Doesburg, Bart van der Leck and Gerrit Rietveld. No exploration of this artistic movement would be complete without a visit to the cities where its roots began, and in which the artists' legacies live on in several important monuments and museums.
Visit the Mondriaanhuis in Amersfoort – the birthplace of Piet Mondrian and now an impressive museum.
Discover the world's largest collection of Rietveld's works in the Centraal Museum.
See Rietveld's architecture up close in the Rietveld Schröderhuis and the Rietveld Paviljoen.
Learn more about the colour palette of De Stijl's artists at Kunsthal KAdE in Amersfoort.
De Stijl in Utrecht and Amersfoort
The perfect place to begin your exploration of De Stijl is the birthplace of its most famous practitioner, Piet Mondrian. The artist's childhood home in Amersfoort is now the Mondriaanhuis, a museum dedicated to his life and work. It's set to reopen in March 2017 after an impressive restoration, ensuring that it celebrates 100 years of De Stijl, from Mondrian to Dutch Design, in top form. Here you can see his early works, trace the development of his style, explore a life-size reconstruction of Mondrian's Paris studio, and experience temporary exhibitions that reflect Mondrian's influence around the world.

Born in Utrecht 16 years after Mondrian, designer and artist Gerrit Rietveld remains one of De Stijl's most influential figures. Rietveld's work is prevalent in Utrecht, from the Rietveld Schröderhuis – which is considered the architectural showpiece of De Stijl – to the Centraal Museum: home to the largest collection of the artist's work in the world, including the original iconic 'Rood-blauwe stoel' (Red and Blue Chair).
Rietveld Schröderhuis: De Stijl's architectural masterpiece
Now a UNESCO World Heritage site, this iconic home was designed by Gerrit Rietveld in 1924 to a commission by art patron Mrs Truus Schröder. The building, realised exactly to the architectural principles of De Stijl, encourages a seamless flow between inside and out, with bright, dynamic living spaces created by sliding panels and the application of bold, primary colours throughout. Today the Rietveld Schröderhuis stands as a solid and lasting monument to the movement, and arguably the only true De Stijl building in the world.
See Rietveld's Red and Blue Chair – a De Stijl icon
The Red and Blue Chair was completed by Gerrit Rietveld in 1923 and it has remained a much sought after style icon for almost a century. Its design represents one of the first explorations of De Stijl in three dimensions. Much like his architecture, Rietveld's chair examines the interaction of vertical and horizontal planes and uses the bold primary colour scheme associated with De Stijl.
Rietveld and De Stijl in Amersfoort
Pay a visit to an important Rietveld project in Amersfoort: the Rietveldpaviljoen. From 13 September 2017 it presents an exhibition and special events about Rietveld, with a particular focus on his architectural and furniture designs in the 1950s. Another insightful exhibition takes place at Kunsthal KAdE from 6 May to 3 September 2017. If you've ever been mesmerised by De Stijl's iconic use of primary colours, 'The Colours of De Stijl' will take you on an artistic trip through the past 100 years, from abstract expressionism through to modern-day colour studies.
Utrecht architecture: the old and the new
The beautiful city of Utrecht may well be at the root of the De Stijl art movement and an inspiration to modern Dutch Design, but much of its ancient city centre dates back to medieval times. It's this contrast of the old and the new, the archaic and the abstract that makes Utrecht one of the most magical visitor destinations in Holland. Head away from the city's gothic towers and cobbled streets to explore the clean, modern architecture of the Utrecht Science Park and enjoy a drink on the colourful rooftop terrace café, De Daktuin.
Don't miss the chance to visit one of the many exhibitions taking place in 2017 as part of the centenary celebrations of De Stijl. Utrecht's Centraal Museum hosts a programme of exhibitions dedicated to De Stijl and Dutch Design throughout the year, including an unmissable ode to the life and works of Rietveld from 4 March to 11 June 2017, as well as a collection of Dutch Design icons on display from 23 September to 3 December. See an overview of all Mondrian to Dutch Design exhibitions in Utrecht.
Accessibility
Utrecht and Amersfoort are 30-45 minutes from The Hague, Leiden, Amsterdam or Schiphol Airport.
Drachten is two hours away, via the Afsluitdijk, a 32 km sea dike, which is an engineering marvel and a breath-taking international attraction in itself.
The Dutch Design district of Eindhoven is easily reachable within an hour.
Accomodation
Utrecht is overflowing with unique accommodation. Treat yourself to the beautiful Mary K Hotel: a luxurious art hotel in the historic city centre with individually designed rooms and spacious, modern bathrooms. Or if you prefer to stay in Amersfoort, consider the delightful boutique B&B In Negentienvijf, set on a quiet cobbled street with its own courtyard garden.
We recommend
Feel the true impact of De Stijl in the north of the Netherlands. Visit a colourful museum home in the heart of Friesland, a museum dedicated to modern art and a revitalised aviation school that shows off De Stijl's core principles. 
Discover De Stijl's far-reaching influences in the province of Gelderland. Venture into a national park to see De Stijl treasures in the Kröller-Müller Museum, while Villa Mondriaan introduces you to the young Piet Mondrian.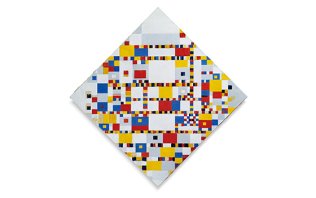 De Stijl was founded in 1917. Important members of De Stijl were Theo van Doesburg, Piet Mondriaan, Bart van der Leck, J.J.P. Oud, and Gerrit Rietveld. Learn everything about this art movement.
Read more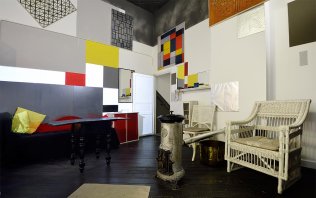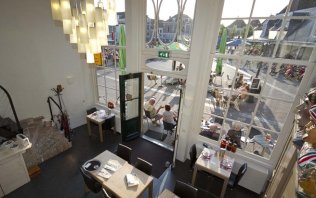 Feel history come alive at Logement de Gaaper, the most pleasant hotel in Amersfoort. From here, you can walk to the Mondrian House within a few minutes.
Book now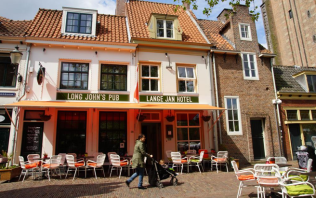 Spend the night at hotel Lange Jan in the historic heart of Amersfoort, right next to Onze Lieve Vrouwetoren. The hotel is located in a renovated 18th-century building and offers beautiful, comfortable rooms.
Book now
More in this region
Discover the centuries old cheese trading tradition in Gouda.

Read more

Be enchanted by the largest castle of Holland.

Read more

Amersfoort has a compact city centre that is just perfect for a day on the town.

Read more

Visit the Witches Weighhouse and discover the witch in your family!

Read more

Visit the birthplace of De Stijl co-founder Piet Mondrian, now a museum about his life and work.

Read more

The former residence of Princess Beatrix is just a stone's throw from Soestdijk Palace.

Read more

Discover the luxurious 20th century manor of the last German Emperor

Read more

The former palace of the Royal Family in Baarn.

Read more

Zuylen Castle is one of the treasures of the Vecht region, and a place that has remained unchanged since 1752. Visit Zuylen Castle and feel like you've taken a trip back in time to the 18th century.

Read more

Groeneveld Castle has truly breathtaking gardens. You can also explore the scenery around Groeneveld with a forest ranger from the Dutch Forest Service.

Read more

Discover Amerongen Castle, the most beautiful Dutch Huys from the Golden Age.

Read more

See the most beautiful wild animals and pet a snake or tarantula.

Read more

Step inside one of Gerrit Rietveld's most important late works as the Rietveldpaviljoen reopens.

Read more
Do you like this theme? You might also like: