Ouddorp is located at the tip of the island of Goeree-Overflakkee. Ouddorp is a perfect seaside town for families that offers not just beaches, nature and space but much more. The beach is eighteen kilometers long, separated from the town of Ouddorp by a ridge of dunes. 
Ouddorp boasts 18 kilometers of beach.
Centrally located in Zeeland.
Discover the many water sports opportunities.
18 kilometers of beach in Zeeland
Ouddorp lets you choose from four beaches; Kuststrand Brouwersdam, Kuststrand Vuurtoren, Strand Noord, and Kuststrand Flauwe Werk. The first is the most popular and has the most extensive facilities.
Lake Grevelingenmeer
Those who really love water sports, go to lake Grevelingenmeer. Here you will find every type of water sports. You can go sailing, surfing and kitesurfing on Grevelingenmeer. You can also take lessons to improve your skills. Would you prefer to enjoy lake Grevelingenmeer in a less active way? In that case, opt for a boat tour. There are several boat operators who are happy to show you the beautiful natural landscape near the water. Boat tours leave from De Punt and Port Zélande, among other places.
Other places near Ouddorp
Extensive walking and cycling options make for the peace and quiet you seek. It is also a perfect way to explore and enjoy the area around Ouddorp. If you come in spring, you will cycle through huge fields full of flowers, which are grown especially for their seed. In summer, a renovated tram drives across the Brouwersdam to Schouwen. Along the way, you can enjoy the sun, beach and sea at one of the pleasant beach pavilions.
On an island to the south you will find Neeltje Jans, which is part of the Delta Works. This is where you will learn all about Holland's battle against the water.  
Editor's pick
Book a cycling holiday to enjoy all the highlights of Zeeland.
Spending the night in Ouddorp
Are you searching for a hip design hotel, a romantic bed & breakfast, or a pleasant holiday home for your family? Ouddorp has suitable accommodations for every taste and budget. Check out the comprehensive selection and book your perfect holiday here!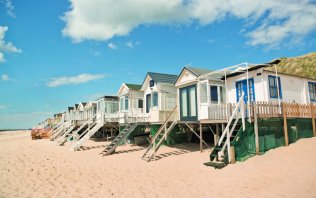 Holiday by the sea? Discover the many options here.
Read more