7x restaurants in The Hague
7x restaurants in The Hague
The Hague, chic government city of Holland, has much to offer in terms of the culinary arts as well. Which makes sense, of course. With fresh fish from Scheveningen, Asian influences from China Town, and spicy notes from the former colonies, there are many culinary pleasures to discover in The Hague – from French to Asian and from brasserie to Michelin-star restaurants.
The Hague offers culinary influences from around the world.
The city boasts two Michelin-star restaurants.
Discover the best restaurants in The Hague here.
Set Genki Tei
Wonderful Japanese food is served at a fair price in this minimalist interior, which surrounds you with natural materials.
Address: Schoolstraat 4, The Hague
Niven *
Niven Kunz is 35 years old and has had a Michelin Star for the past 11 years. He cooks according to the 80/20 principle: 80% vegetables and 20% meat or fish. His menu is determined by the season and what is avalailable on the market. In 2015, 500 collegues elected NIVEN 'Best Dutch Vegetable Restaurant' for the second consecutive time.
Address: Delftweg 58a in Rijswijk
Calla's *
Stylish and intimate Calla's restaurant is located in a chic district in The Hague. The restaurant serves top-notch food, which has earned it a Michelin star. Reserve the 'chef's table' for an extra special culinary adventure!
Address: Laan van Roos en Doorn 51A, The Hague
HanTing Cuisine
The best of French and Asian cuisine combined in surprising, extraordinarily flavourful dishes.
Address: Prinsestraat 33, The Hague
The Raffles
Original, fresh dishes with many fresh herbs and spices that are used in the archipelago, Malaysia and Singapore. The Raffles has put Indonesian cuisine on the culinary map in Holland.
Address: Javastraat 63, The Hague
Bij Erik
You will find this wonderful restaurant with its menu full of classics with a modern twist near the lock in Leidschendam. It also serves a range of excellent wines!
Address: Sluisplein 9, Leidschendam
Basaal
Staff serve great dishes made with fresh produce, delicious wines and special digestive liqueurs in cosy, contemporary surroundings. The terrace is a welcoming place if the weather is good.
Address: Dunne Bierkade 3, The Hague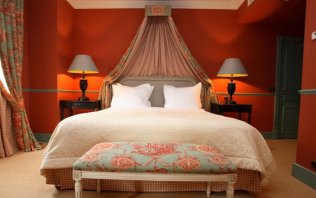 More than 100 hotels in The Hague. Spend the night in a stately hotel, or book a stay in an apartment.
View the offer