The international home of De Stijl
The international home of De Stijl
2,042 Views
From Mondrian to Dutch Design, celebrate 100 years of De Stijl in The Hague, a beautiful city renowned as the international home of De Stijl's artworks. Housed in an iconic Art Deco building by famous Dutch architect H.P. Berlage, the Gemeentemuseum Den Haag is an unforgettable way to come face to face with the movement thanks to a collection that features 300 Mondrian works in an immersive presentation, as well as the world's largest collection of De Stijl artworks.
Explore the entire oeuvre of Mondrian as the Gemeentemuseum Den Haag showcases 300 works.
See the icons of De Stijl, including Mondrian's 'Victory Boogie Woogie'.
Discover why De Stijl is still relevant to Dutch Design(ers) today.
Mondrian: at home in The Hague
De Stijl is internationally renowned as Holland's most significant contribution to the development of modern art, and The Hague truly holds Piet Mondrian and this famous art movement close to its heart. Not only is the Gemeentemuseum Den Haag home to the largest collection of Mondrian artworks in the world, it also hosts the largest collection of De Stijl works. Since 2011 this grand municipal museum has presented an immersive permanent collection of 300 Mondrian artworks, guiding the visitor through his entire oeuvre, from his earliest paintings through to the spectacular 'Victory Boogie Woogie'. It also showcases works by Mondrian's De Stijl peers, including Theo van Doesburg, Bart van der Leck and Gerrit Rietveld, making The Hague an unmissable stop for fans of the movement.
Throughout 2017, as Holland celebrates 100 years of De Stijl, from Mondrian to Dutch Design, the Gemeentemuseum Den Haag's remarkable permanent collection is bolstered by a host of insightful temporary exhibitions and presentations about Mondrian and De Stijl.
Invention of a new art
Get a true sense of the ideas and works found at the core of De Stijl during the Gemeentemuseum Den Haag's exhibition 'Piet Mondrian and Bart van der Leck – The Invention of a New Art', which runs from 11 February until 21 May 2017. Featuring some 80 works of art, this exhibition looks at how these two renowned artists worked side by side during a three-year period, delving specifically into how they influenced and challenged each other. For example, was it Mondrian or Van der Leck who was first to employ primary colours? And who was for or against the use of diagonals.
Learn more about Van der Leck's work between 1912 and 1918 in an exhibition at the Kröller-Müller Museum from 14 October 2017.
Discover Mondrian
In summer 2017, the Gemeentemuseum Den Haag invites you to meet the world's greatest modern artist: Piet Mondrian. During the exhibition 'A Voyage of Discovery Through Mondrian's Life and Work', on display from 30 June until 24 September 2017, you can take a walk through Mondrian's career via 300 of his works – from his luxuriant landscapes and brightly coloured windmills to his most abstract 'greatest hits', including 'Victory Boogie Woogie'. See how Mondrian's cosmopolitan life in the cities of Amsterdam, Paris, London and New York influenced his art, and gain new insights into his greater impact on the 20th century.
De Stijl's influence on Dutch Design
From 10 June until 17 September 2017, take fresh inspiration from De Stijl in an exhibition titled 'De Stijl Architecture and Interiors' at the Gemeentemuseum Den Haag. Showcasing De Stijl architecture and interiors from a century ago, it illustrates that these works proved to be a glimpse into the future, laying the foundations for the contemporary designs that still affect our lives today. As such, this presentation is a must-see for fans of Dutch Design.
Explore the region: The Hague
The Hague is one of the most extraordinary cities in Holland. Not only is it the seat of government, it's also the home of the Dutch Royal Family. Discover historic monuments, world-class museums, modern shopping areas and one of Holland's most popular seaside resorts.
Getting around
Travel to Leiden in less than 30 minutes
In under an hour you can reach Utrecht, Amersfoort, Brabant, Amsterdam or Schiphol Airport
Drachten is almost a 2-hour journey, although the route takes you across the Afsluitdijk, a 32 km sea dike, which is an engineering marvel and a breath-taking international attraction in itself
Accommodation
The Hague offers a wealth of accommodation, from budget with flair to royal luxury. For a special city centre treat, enjoy a stay in Boutique Hotel Corona, a stunning 17th-century building in the political heart of The Hague.
We recommend
Discover the roots of De Stijl in Utrecht and Amersfoort. Visit the birthplace of Piet Mondrian and view the world's largest Gerrit Rietveld collection.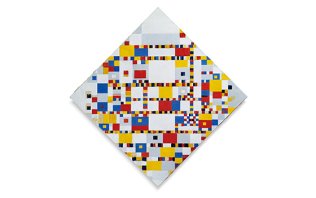 De Stijl was founded in 1917. Important members of De Stijl were Theo van Doesburg, Piet Mondriaan, Bart van der Leck, J.J.P. Oud, and Gerrit Rietveld. Learn everything about this art movement.
Read more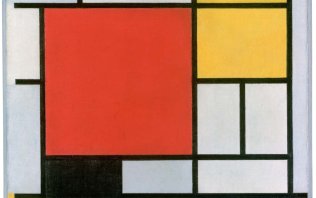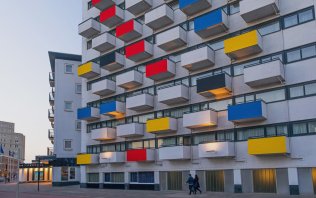 Spend the night in 'De Stijl' of Mondrian at the Bilderberg Hotel in The Hague. To celebrate 100 Years of De Stijl, the small room balconies have been converted to a work of art by Mondrian.
Book now
Do you like this theme? You might also like: