When you visit Utrecht, you also have to visit  the Dom Tower. The highest and oldest church tower in Holland is Utrecht's main landmark. The Dom Tower was built between 1321 and 1382 and is 112 meters high. Even if you can't see it, you are still likely to hear one of its thirteen bells that weigh between 880 and 18,000 pounds.
Climb the 465 steps of the oldest and highest church tower in Holland.
Enjoy the beautiful view of Utrecht.
Visit the chapels and admire the beautiful bells.
Climb the Dom Tower
The Dom Tower is open to the public and offers an excellent view of Utrecht and the surrounding area, but before you can enjoy the view you first have to climb 465 stairs! On a clear day, you can see the church steeples of Amersfoort, Rhenen, Montfoort, Oudewater, Woerden and even Amsterdam from the top of the tower. 
The Cathedral
The Dom Tower became separated from the cathedral after a tornado struck the church in 1647. Combine your visit to the Dom Tower with the cathedral and be amazed by the French Gothic style, 15th century wall paintings and medieval courtyard.
Blog: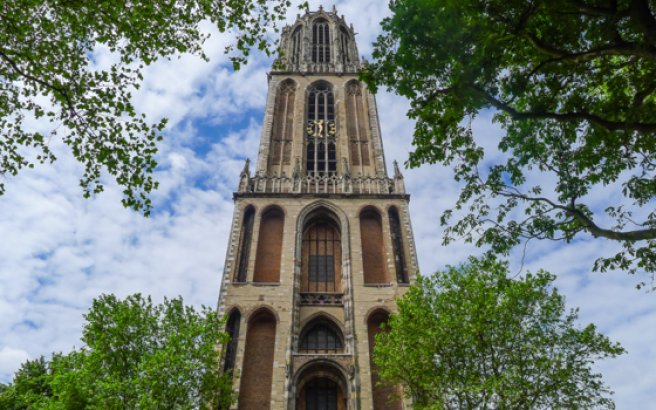 Can you manage the 465 steps to the top of the Dom Toren in Utrecht?
Read more
Find out what's nearby
Address:
Domplein 9
3512JC Utrecht
Visit the website
More in this region
Discover the centuries old cheese trading tradition in Gouda.

Read more

Be enchanted by the largest castle of Holland.

Read more

Amersfoort has a compact city centre that is just perfect for a day on the town.

Read more

See the most beautiful wild animals and pet a snake or tarantula.

Read more

The former palace of the Royal Family in Baarn.

Read more

The former residence of Princess Beatrix is just a stone's throw from Soestdijk Palace.

Read more

Visit the Witches Weighhouse and discover the witch in your family!

Read more

Discover Amerongen Castle, the most beautiful Dutch Huys from the Golden Age.

Read more

Visit the birthplace of De Stijl co-founder Piet Mondrian, now a museum about his life and work.

Read more

Discover 5000 years of military history at the National Military Museum (Nationaal Militair Museum) in Soest.

Read more

Step inside one of Gerrit Rietveld's most important late works as the Rietveldpaviljoen reopens.

Read more

Discover the luxurious 20th century manor of the last German Emperor

Read more

Zuylen Castle is one of the treasures of the Vecht region, and a place that has remained unchanged since 1752. Visit Zuylen Castle and feel like you've taken a trip back in time to the 18th century.

Read more

Groeneveld Castle has truly breathtaking gardens. You can also explore the scenery around Groeneveld with a forest ranger from the Dutch Forest Service.

Read more