© Jelle Verhoeks via Utrecht Marketing
Light Art Route through Utrecht
Utrecht Lumen gives you a new view on the city. The light art route leads you along all kinds of streets, objects, canals and structures. You'll also learn more about the city and historical events from the past.
Utrecht Lumen offers visitors a new perspective of Utrecht. These works of art shine a special light on its history, the residents and the function or symbolism of particular buildings or locations. Other artworks lead to surprising places that are off the beaten track or that you might easily have missed during the daytime.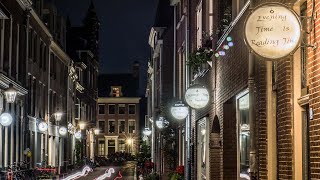 Watch this video
Discover the city in the dark
You can book a tour with a guide along artistic light installations. Prefer to spot these hidden gems yourself? Be inspired, create your own light itinerary and see the works of art before they disappear into the daylight. Utrecht Lumen is open 7 days per week during the evenings.
© Jelle Verhoeks via Utrecht Marketing

© Jelle Verhoeks via Utrecht Marketing

© Jelle Verhoeks via Utrecht Marketing

© Jelle Verhoeks via Utrecht Marketing