Design Shopping Hot Spots
Design Shopping Hot Spots
157 Views
In search for the trendiest designs? Holland is the place to be!
Amsterdam
Droog Design and Moooi Design collaborate with the best designers and have a great international network. Their collections contain both impressive objects as well as eye-catching products for daily use. Together they represent the Dutch design summit.
You, as a true design-lover, want to see it all. So here's an overview with other fabulous design shops in Amsterdam:
Furniture and home accessories: 'De Kasstoor', 'The Frozen Fountain' and 'Wonen 2000'.  

Pots: 'Pol's Potten'  

Objects: 'Das Wella Warenhaus'  

Vintage design: 'Anno' and 'Vintage Home'

Clothing, accessories, books and more: 'Arrival/Departure'
Rotterdam
Studio Hergebruik (Studio Reuse) says it all. Different designers and art styles have one general similarity: every design is made of reused and recycled materials.
At VIVID Gallery you can find works of both national and international established designers and new upcoming talents. While Seventiesdesign has a great vintage design collection.
Utrecht
The Vaen Design shop is the place to be for vintage design in Utrecht. Jules and Jeremy Design and Bebop Furniture have a more modern look on furniture. For a completely different perspective on home design you should go to Rachmaninoff.
Maastricht
It doesn't matter in which style you want to furnish your house, Maastricht has all the interior design shops you can dream of. Some of the best shops are Lendfers Interior Design, Toro Interior Design, Arteaux Art and Design, Conflict and Sirius Smart Shop.
For an absolute design experience in Maastricht you should stay at the Design Hotel.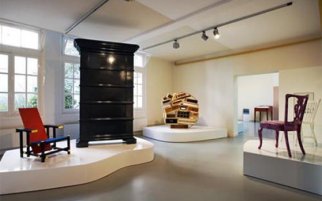 Our favorite places to buy Dutch design.
Read more