Museums
The Netherlands is a world leader in the field of art and culture. Enjoy an impressive variety of classical and contemporary art at the Van Gogh Museum, Rijksmuseum, Royal Picture Gallery Mauritshuis, Bonnefantenmuseum Maastricht and Kunsthal Rotterdam. Get an impression of Dutch history and culture at the Anne Frank House, Jewish Historical Museum, Royal Delft, Amsterdam Museum, Dick Bruna House or one of the many other outstanding museums.
Plan a cultural city trip to Holland
Discover the wide range of museums throughout Holland
Search hotels
Top destinations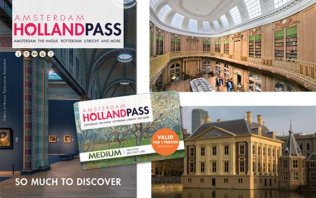 Receive free entrance and discounts to a wide range of museums, attractions, restaurants and shops in the Netherlands.
Read more
Plan a cultural city trip to Holland