10 reasons to explore Holland by bicycle
10 reasons to explore Holland by bicycle
7,209 Views
Its flat landscape, mild climate, short distances and excellent infrastructure are what makes Holland the ultimate cycling nation. There are plenty of reasons to explore Holland by bicycle. We list the top 10 reasons for you here.
10 reasons to explore Holland by bicycle
Holland boasts 30,000 km worth of bicycle networks (junction network, LF routes)
Road signs have been perfected so it is virtually impossible for a cyclist to get lost
There are over 32,000 kilometres of safe cycle paths, mostly separated from motorised traffic
The Dutch are used to cyclists and pay attention to them in traffic
Holland is a flat country, so even untrained cyclists will find it easy to travel the routes
Holland has a mild climate so it is rarely too hot or too cold to ride a bicycle
You will see the most beautiful spots that are otherwise hidden; the junction network takes you to roads and paths inaccessible to motorised vehicles
Cycling is a green means of transport so you'll contribute to a sustainable society
Holland is in the top 5 countries in the world for road safety
It is good for your health!
In short, the bicycle is the perfect means of transport if you want to see Holland at its best. If you don't own a bicycle or cannot take one with you, you can rent bicycles pretty much everywhere. Book your complete bicycle holiday in Holland here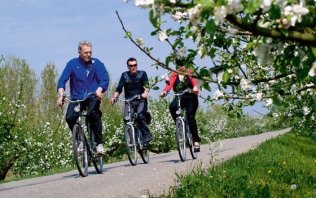 Discover Holland by bike on a cycling holiday.
Read more
More about cycling in Holland