Dada in Drachten
870 Views
Get to grips with a key part of Dutch art history with Museum Dr8888's Dada and De Stijl-inspired exhibitions and events in Drachten, a part of Leeuwarden-Friesland 2018, European Capital of Culture. These special exhibitions and events invite visitors to immerse themselves in the visual art, fashion, architecture and poetry associated with the avant-garde art movement and its De Stijl peers.
Learn about the art movement that grew into social realism, surrealism and other forms of modernism at Museum Dr8888 and in the streets of Drachten.
Find out about Drachten's historical connections to Dada and De Stijl, and its role in spreading these movements' message across Holland and beyond.
Look out for a bustling program of art and culture all year long.
A Dada showcase in Drachten
Drachten – the second-largest town in Friesland – has a long and strong connection with the Dadaism and De Stijl art movements. The free-spirited and liberal Dada art movement, which was founded in Zurich in 1916, was fully embraced by Drachten's artistic community. At around 1920, Drachten-based artists such as brothers Thijs and Evert Rinsema – together with architect and De Stijl founder Theo van Doesburg – helped put Drachten on the Dada and De Stijl map – a fact (re)discovered by Drachten in 2018. Museum Dr8888 is hosting exhibitions and events dedicated to the weird, wonderful and wishfully avant-garde art movement throughout 2018.
Dada and Drachten programming
Dadaism's free-spirited nature and outright denunciation of bourgeois capitalism, and De Stijl's use of linear geometry and primary colors caused an artistic revolution a century ago, influencing modern art movements around the world. The fact that Drachten's artistic community completely embraced these art movements reflects how progressive and creative this small Frisian city could be. Museum Dr8888 invites you to (re)discover the impacts of these movements throughout 2018.

Highlights of 'Dada in Drachten' include:
• 28 January - 8 April 2018: Beyond Dada and De Stijl (Part 1)
• 22 April - 8 July 2018: Kind van Mondriaan: Siep van den Berg / De Stijl in Straatsburg
• 22 July - 30 September 2018: Beyond Dada and De Stijl (Part 2)
• 14 October - 13 January 2019: Frisian Expressionism: Not Afraid of the New
As well as Museum Dr8888's exciting exhibition schedule, there's an open-air program and Mondrian to Dutch Design route. It's not just about the visual arts, either; fashion, architecture and poetry are also included.
We recommend: Continue sculpting your knowledge of art history at the Princessehof Ceramics Museum in Leeuwarden, which showcases a stunning collection of tiles, pottery and ceramic sculptures – all housed within a beautiful 18th –century palace.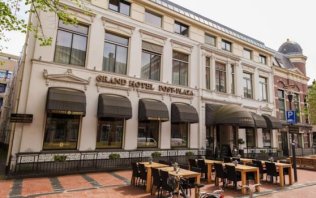 Book a vacation in Friesland and enjoy the landscape, the water and the authentic villages.
Read more
More in Leeuwarden-Friesland
Watch this video: Leeuwarden-Fryslân 2018