Before 1969, this area still had an open connection to the sea. For fear of flooding, a dam was built, turning this salt marsh area into panoramic freshwater wetlands with reeds, forests and large bodies of water. The open water, grasslands, broad-leaved forests, orchid fields, shallow ponds and thick reed bushes make Lauwersmeer into a natural habitat for birds.
Birdwatching around the Lauwersmeer
Bird watchers can indulge at the Lauwersmeer National Park. The curlew, great crested grebe, lesser white-fronted goose, barnacle goose, spoonbill and whinchat are some of the bird species typical for this area. Different vantage points and bird watching facilities make it possible to observe the birds as they go about their business without disturbing them. Lauwersmeer is both a breeding ground and a refueling station for the annual bird migration. This means you can spot birds all year round.
On foot, by bike and by boat
Lauwersmeer can be explored while hiking, cycling or boating. There are routes of varying distances, to delight both the nature lover and the sports enthusiast. Besides some protected areas of the Lauwersmeer, there are plenty of water bodies for canoeing, surfing, sailing and motor boating. Around the Lauwersmeer National Park, you will find many places appropriate for a weekend of camping out in the nature.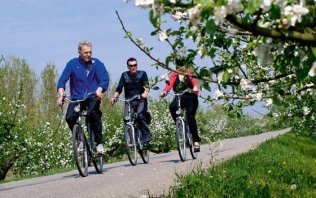 If you want to explore Holland by bicycle, check out our offer of organised bicycle holidays. The bicycle routes include baggage transport!
View the offer
Watch this video: Good morning
Holland is home to many scenic areas and national parks with great walking tracks.