See Holland in full bloom
See Holland in full bloom
31,547 Views
Holland in spring is a colourful place to be. Tour the wonderful flower-bulb fields, which are filled with colourful flowers, visit Keukenhof or stroll around one of the flower markets. It will cheer you right up after winter!
More than 7 million flowers blooming at Keukenhof.
Don't miss the world's most beautiful flower parade!
A must see in Amsterdam: the floating flower market.
When you think about Holland, you probably envision windmills, wooden shoes and ...tulips. Huge fields, split up into strips filled with bright tulips, daffodils and hyacinths in the most wonderful colours. Come enjoy them this spring in the flower-bulb region around Leiden!
Colour your spring!
When the flower bulbs are blooming, this may well be the most colourful region in the world. It starts with crocuses, followed by tulips, daffodils and hyacinths from the end of March to the end of May. In late summer gladiolas, dahlias, carnations and asters make for a second explosion of colours in the area around Lisse, Hillegom and Sassenheim.
Visit Keukenhof
If you are visiting the flower-bulb region in spring, we warmly recommend visiting Keukenhof. The beautiful Keukenhof estate, which dates from 1642, boasts a 32 hectare park filled to overflowing with gorgeous flower bulbs. Find yourself surrounded by over seven million flowers, explore the lovely pavilions and visit some interesting exhibitions.
Flower parade
The Dutch use their daffodils, hyacinths and tulips to create the most imaginative floats, as you will see at the annual flower parade (Bloemencorso). It is a wonderful, colourful spectacle with huge floats and beautifully embellished cars following a route from Noordwijk to Haarlem.
Amsterdam flower market
If you really love flowers, you should definitely visit the Amsterdam flower market. It can be found on the Singel, between Koningsplein and Muntplein squares, and consists of a number of boats floating on the Singel canal. This tradition started in the time that flowers were brought into the city by boats every day. Today the boats are permanently moored here, and they constitute one of Amsterdam's biggest attractions.
Have a look at our accommodations here and book your trip now. Or choose a fully organised bicycle holiday and explore the flower-bulb region by bicycle.
Frequently Asked Questions

When is the best time to see Dutch tulips in bloom?

Where is the flower parade held?

When do flowers bloom in the Netherlands?

When is the Keukenhof open?

Where are the tulip fields located?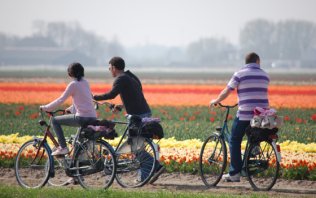 Explore the most impressive Dutch nature reserves and culture during an 8-day cycling tour.
Read more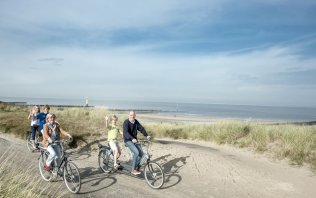 If you want to explore Holland by bicycle, check out our offer of organised bicycle holidays. The bicycle routes include baggage transport!
View the offer
Watch this video: Good morning
Holland is home to many scenic areas and national parks with great walking tracks.