Discover the beautiful natural landscape of the Nieuwe Hollandse Waterlinie (New Hollandic Water Line) and visit one of its many beautiful fortresses. You can even spend the night!
Discover the beautiful recreational area with its grasslands, fields, heath and peatlands, lakes and rivers.
Visit the splendid fortresses and learn about the history of the Nieuwe Hollandse Waterlinie.
Spend the night in a fortress and enjoy the unique history.
The New Dutch Water Line is a defense line with a circumference of 135 kilometer around which the cities of Amsterdam and Utrecht are situated. The massive fortification is formed by at least 45 fortresses. The strength of the defense is in its ability to inundate large tracts of land. Today, the New Dutch Water Line no longer serves a military purpose and enjoys a protected status as a National Heritage Site and a National Landscape.
Cycling along the Water Line
Follow the New Dutch Water Line by bicycle or on foot and you will pass beautiful scenery and numerous cultural monuments. Along the route, you can vary the nature, first with its meadows, fields, heath, peat bog soil, lakes and rivers, and then with fortresses, picturesque villages and the cities of Amsterdam and Utrecht. You can decide which challenge you want to take on- there are hiking and cycling routes of several kilometers, but also routes that reach up to 40 kilometers.
Besides hiking and biking, there are other ways to discover the landscape of the New Dutch Water Line. For example, there are several skating and horse riding routes as well as opportunities to hire a canoe or a boat.
Cultural and historical extras
A trip along the New Dutch Water Line will not only lead you right through beautiful Dutch landscapes, but also to museums, fortresses and castles. Examples are the castles Muiderslot and Slot Loevestein, the Netherlands Fortress Museum and the botanical gardens of Fort Hoofddijk. This special blend of nature and cultural activities makes the New Dutch Water Line popular with people of all ages.
Visit a fortress
The Nieuwe Hollandse Waterlinie boasts 34 fortresses in all. We have selected 5 must-see fortresses.
1) Muiderslot
The gorgeous medieval Muiderslot castle was built around 1280. Visitors can explore the castle using 3 different routes, and there is a special organized hunt for children with a truly spectacular conclusion.
Address: Herengracht 1, Muiden
2) Fort Altena
Evolved into the recreational gate to the Land of Heusden and Altena. Fort Altena offers a mix of recreation, nature and history for people of all ages.
Address: Tol 8, Werkendam
3) Slot Loevestein
Throughout the year, a range of activities and events is organized at Slot Loevestein. Its extraordinary history covering some 650 years will attract young and old.
Address: Loevestein 1, Poederoijen
4) Fort bij de Nieuwe Steeg / Geofort
A theme park that is great fun for children. Offering a huge variety of activities, this is a real educational attraction at an exciting fortress.
Address: Nieuwe Steeg 74, Herwijnen
5) Forteiland Pampus
This island fortress is more than 100 years old and a part of the Stelling van Amsterdam, the city's old defensive line. The fortress is brought to life through an interactive multimedia presentation.
Address: Vestingplein 1, Muiden
2 fortresses where you can spend the night
Did you know that you can spend the night in a fortress? It makes for a truly special experience in a beautiful location. You can book a room at Fort Bakkerskil and Fort Resort Beemster. We highly recommend it!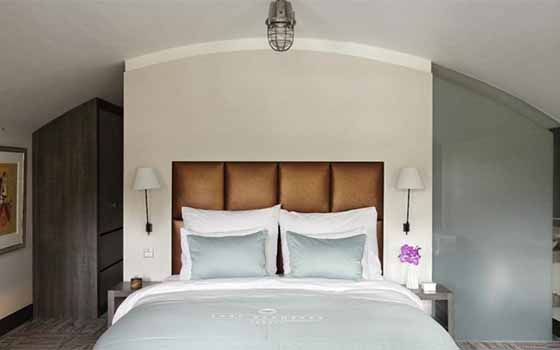 Fort Resort Beemster
Once they were barracks, today they are extra luxury rooms. This gorgeous fort houses a splendid resort offering wellness treatments and excellent restaurants.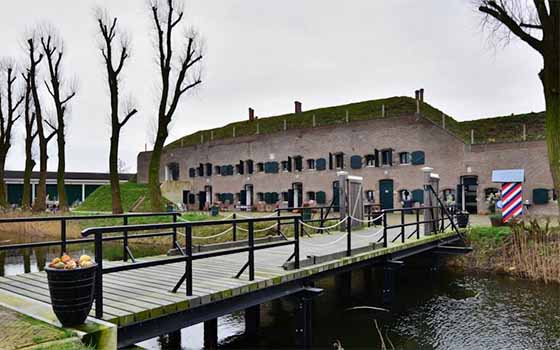 Fort Bakkerskil
In an idyllic location by Biesbosch reserve, this national monument is a wonderful place to spend the night. The rooms are highly comfortable and the high tea is strongly recommended!