© Benno's fotografie via Holland boven Amsterdam
© Benno's fotografie via Holland boven Amsterdam

© Peter Meurs
The 'historic triangle' of Hoorn,
Medemblik
and Enkhuizen is located just above Amsterdam. Here, in Hoorn, starts your extraordinary trip. You can hear the steam sizzle, the calming rhythm of the wheels on the former railway to Medemblik. Arriving in Medemblik, you will board the Friesland, a museum ship, which will take you to Enkhuizen across IJsselmeer lake.
Steam safari
From Enkhuizen, you will travel back to Hoorn on the regular NS railway service. At Hoorn station, you will find the museum that, among other things, boasts original steam engines and coaches. Children can enjoy the Steam Safari, a game that teaches them about the history of the steam tram.
Tickets and prices
Just like in the past, you will buy your ticket at the steam tram station or on board the boat. A day ticket for adults costs 21 euros; the price for children is 15.80 euros (subject to price changes).
Practical information
You can board in 3 places: from Dedemstraat 8 in Hoorn, Dam 2 (Connexion bus station) in Medemblik and Tritondam 5 (across from the NS station) in Enkhuizen.
The museum in Hoorn is open on every running day from 1.5 hours prior to departure of the steam tram up to 1.5 hours after arrival of the last steam tram.
The historic triangle (Hoorn, Medemblik and Enkhuizen) is at about forty kilometres from Amsterdam and easily reached by car, bicycle or public transport.
The museum steam tram runs through most of the year. If you want to enjoy the beautiful flower-bulb fields when they bloom, take the trip in spring. You can check the schedule here.
Frequently Asked Questions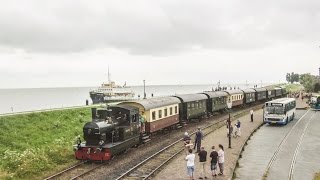 Watch this video: Historische Driehoek