© Johan Wieland via Flickr
One of the last great land reclaim systems
The museum mill is located in the Schermer, the last great impolderment area in North Holland. Excavation works and a storm surge had caused the river to grow into a big inland sea, the Schermeer, over time. To make it safe and reclaim the land, the Schermeer was drained using a total of 52 mills.
Innovative milling system
The mills' layout was a real innovation at the time, allowing the water to be moved to what was then the Zuider Zee and the North Sea. It is a system that still works today.
Holland has more ingenious mill systems that are well worth a visit. You can find more information here.
Museum Mill
The placement of the Schermerhorn Museum Mill in a row of three is eye-catching -- together the mills make for a beautiful, quintessentially Dutch image. The museum is located in the second mill, which can be accessed via the adjacent visitors' center. You can explore the mill from top to bottom and discover exactly how a water mill and reclaiming polders work. You will also discover what living and working in a polder mill means; the miller can tell you all about it during a personal guided tour.
Wooden shoes
After visiting the mill, enjoy the beautiful view of the polder landscape on the terrace. The visitors' center also has a pleasant cafe where you can have a drink and a bite. It also sells authentic clogs used by farmers near the mill: a unique souvenir from Holland!
Practical information
The visitors' center offers information about the Schermerhorn Museum Mill and its environs in several languages. The museum mill can be found about 30 km to the north of Amsterdam, along the N243 provincial road. Parking is free of charge and a charging point is available for e-bikes. The mill is open daily from the end of March until the end of October. Please check the opening hours before you plan your visit!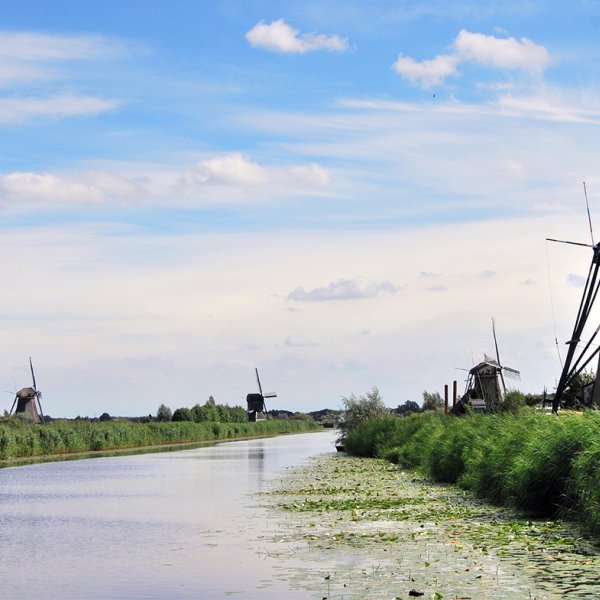 Living on and with the water
Dutch culture is closely interwoven with the water. Discover the rich history, meet local and international water heroes, and travel along to the most iconic places. Immerse yourself in the story of the Netherlands, Land of Water.
Read more