© MarketingOost Nationaal Park en veenhart
Romantic water village
In Giethoorn in the province of Overijssel, you can rent an electric ('whisper') boat, punt, sloop or canoe in many places. There are also tour boats that will take you to romantic canals, beneath wooden bridges and past beautiful thatched farms. When you leave Giethoorn behind, you will sail right into the natural landscapes of Weerribben-Wieden. You will enjoy a wonderful tour, at the end of which you will of course stop at one of the pleasant terraces by the water.
Varied nature
If you want to discover the peace, space and nature of the Weerribben-Wieden above all, rent a boat at Buitencentrum Weerribben in Ossenzijl or board the electric boat at Visitors' Center De Wieden in Sint Jansklooster. You will see many water birds and perhaps even spot the rare otter, a small copper butterfly or dragonfly hidden between the vegetation. You may also pass by tiny peat digger's huts and 'tjasker' mills. These reveal the origin of this area in peat extraction.
A different view every season
The reedlands of the Weerribben-Wieden make for an extraordinary landscape every season. Beautiful views in spring and a green and golden maze in summer and fall. It is easy to relax here.
Boarding in
Giethoorn: Water village Giethoorn boasts several rental companies
Buitencentrum Weerribben, Hoogeweg 27, 8376 EM Ossenzijl, T +31 (0)561 477 272
Visitors' center De Wieden, Beulakerpad 1, 8326 AH Sint Jansklooster, T +31 (0)527 246 644
Signage
In this area, boating routes are marked with signs on the canal sides. The rental companies give you a map.
Editors' tip:
In Giethoorn, have a look at punt shipyard Wildeboer (Beulakerweg 48), one of the last shipyards to build the traditional punt. These boats are propelled with the aid of tall wooden sticks called the 'punterboom' and were the main means of transport for centuries. They made Giethoorn famous as the 'Venice of Holland'.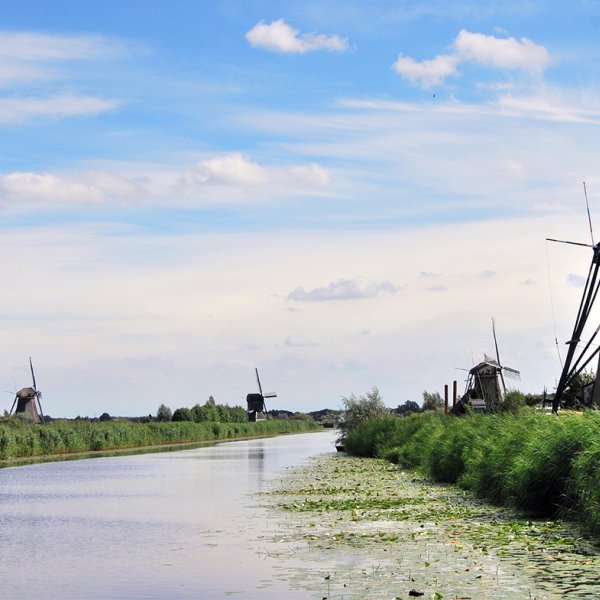 Living on and with the water
Dutch culture is closely interwoven with the water. Discover the rich history, meet local and international water heroes, and travel along to the most iconic places. Immerse yourself in the story of the Netherlands, Land of Water.
Read more