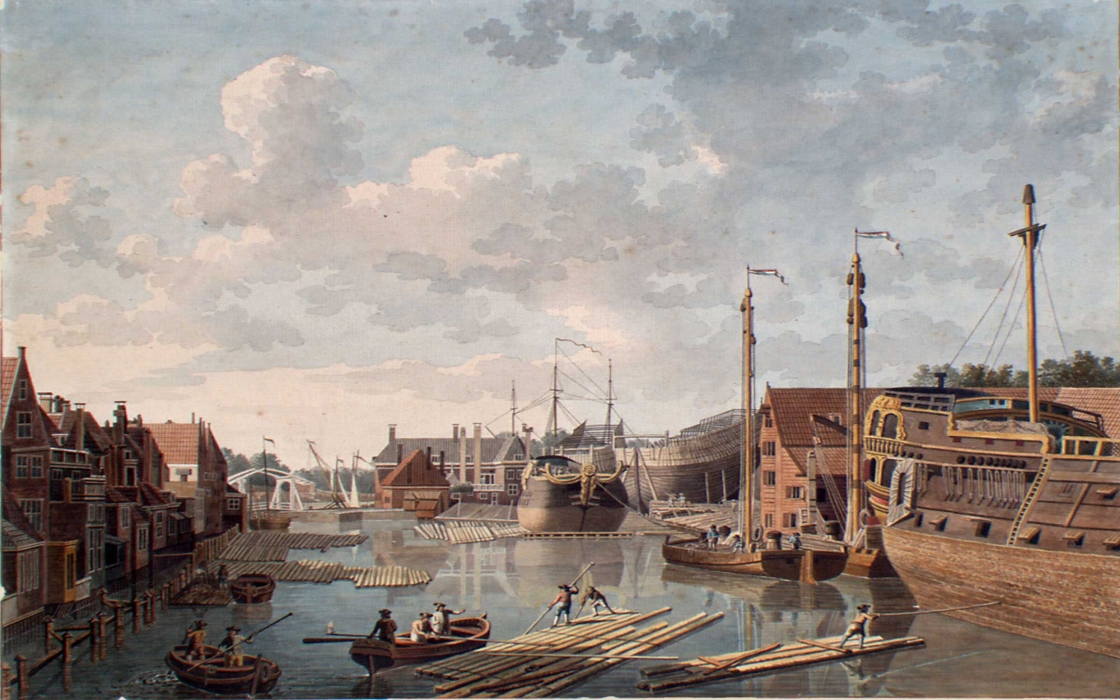 © Jan Arends, 1778

© VVV Zeeland

© VVV Zeeland
Trace the Dutch Golden Age in Middelburg
Middelburg is an ideal city to retrace the Golden Age in Holland. This compact city, which is a 2.5-hour drive from Amsterdam, is filled with historic buildings and monuments, cobbled streets and narrow alleys that have been carefully preserved. Shipyards, warehouses and several inspiring museums give you an insight into the industry that gave rise to Middelburg as the largest trading city in southwestern Holland.
Middelburg's trading legacy
In the 16th and 17th centuries, Middelburg was an economic power, second only to Amsterdam as Holland's most important center of trade. The VOC (Dutch East India Company) is widely considered to be the world's first transnational company, and was instrumental in the development of modern capitalism. Middelburg brought spices, cloth and porcelain from Asia and Africa to a captivated European market. In fact, Holland's first auction for Chinese porcelain took place in Middelburg, spurring a nationwide fascination for the painted pottery that came to be reproduced as Delftware. The city attracted sailors, mapmakers and a great many shipbuilders, who constructed some 300 ships over the course of two centuries. Something of a dark spot in its history, Middelburg also played a role in the international slave trade until it was abolished in Holland in 1863. Having witnessed the injustices of such practices, the city has since become an advocate for human rights and now presents the Four Freedoms Award under the Roosevelt Foundation.
Quickly rising to a city of extraordinary wealth and influence, intellectuals, scientists and artists were drawn to the region, as were many Flemish immigrants following the siege of Antwerp in 1585. Significant discoveries were made during the Dutch Golden Age, such as the invention of the telescope by Hans Lippershey in 1608.
Revisit the Golden Age in Middelburg
Middelburg's historic buildings and monuments give a sense of the city's Golden Age heritage. Some 1,100 national monuments survived World War II bombings and many more were rebuilt in their original style. Among them, Middelburg Abbey is a former monastery with its roots in the early 12th century. Today the Medieval Gothic-style building is home to the Zeeuws Museum, where a fascinating collection of Eastern artefacts, shipping equipment, tapestries and clothing brings the Golden Age into the present day. Government offices and two churches are also located within the abbey building. The Nieuwe Kerk (New Church) on the western side and the Koorkerk (Choir Church), which is recognizable for its imposing 'Lange Jan' tower that soars above the city.
The Town Hall of Middelburg on the Markt square also indicates this era of grand prosperity, with its late gothic architecture, painted shutters, gables, turrets and statues of Zeeland nobility. Now home to University College Roosevelt, the impressive building continues Middelburg's tradition of scientific discovery.
The Kloveniersdoelen is another example of living history in Middelburg, built in 1607 with distinctive Flemish-style gables. The building was used for target practice and later as a military hospital but remains today as a cinema and restaurant.
We recommend:
Delve deeper into the Dutch Golden Age by visiting
Haarlem
, where Frans Hals' artworks bring the era to life. Continue further north to explore Enkhuizen and Hoorn, which were also key players in Holland's seafaring history.