Rotterdam's highest construction
In 1960, the Euromast was designed for that year's Floriade. With well over 100 meters, it was intended to become the highest structure in Rotterdam. Another building took the title just a few years later, after which it was decided to increase the Euromast's height. 85 meters were added to the construction. It should be noted that the Euromast is not the highest construction in Holland. The radio tower near Lopik has this honor: the Gerbrandy Tower is 361 meters high.
Visit the Euromast
The view from the tower is spectacular. On a clear day, you can see the Belgian city of Antwerp some 80 kilometers away. A ticket grants access to the 100 m platform and the Euroscoop at a height of 185 meters. The restaurant can be found at 100 meters. This is where you can enjoy a real 'high' tea. Brunch, lunch and dinner are among the possibilities. Did you know you can also spend the night in the Euromast? High above the city you will find several luxury suites, where you may well enjoy the most beautiful sunrise and sunset ever.
Abseiling or cable gliding from 100 meters
If you are willing, you can abseil or cable glide from the Euromast. Abseiling lets you 'walk' down along the building's outer wall in a vertical line. Naturally you will be wearing a completely safe climbing harness. The cable glide is a diagonal line to the ground. You will be hanging from a kind of cable track, achieving speeds of up to 100 kilometers per hour. It is perfectly safe; you only have to bring a significant quantity of daring. Tip: Book your ticket in time; this attraction is very popular and not available every day.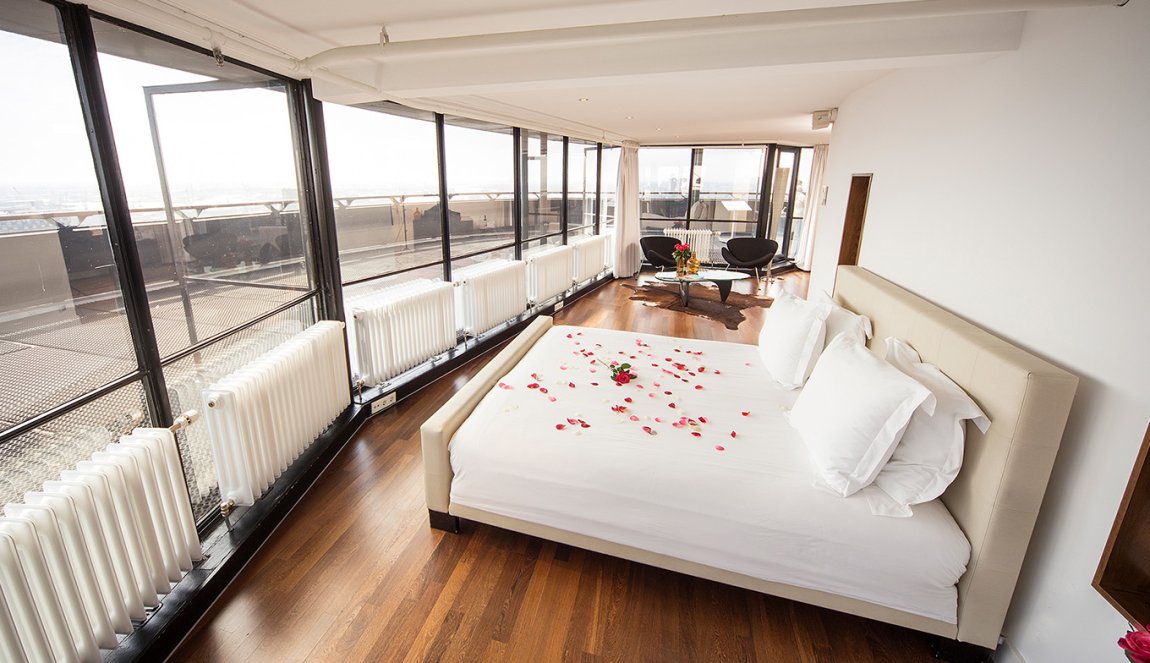 At 100 m high, the luxurious Euromast suites tower over Rotterdam. Both feature a private balcony offering spectacular views of the city centre and the harbour.
Check availability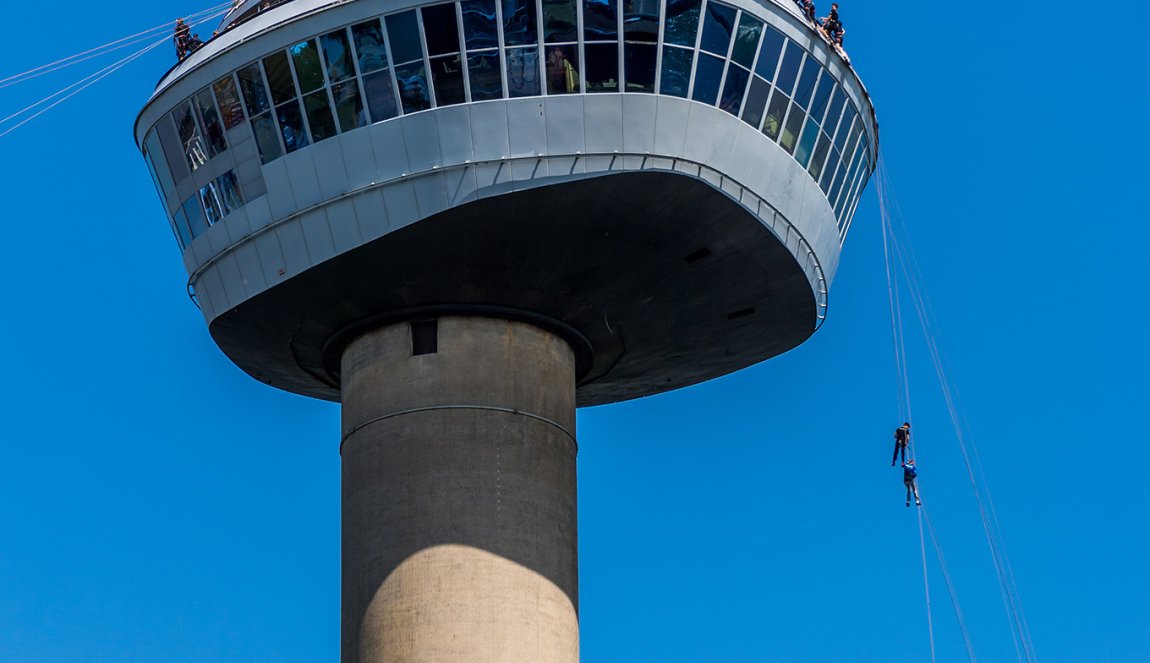 Everything for a kick: rappelling down the Euromast.
Read more
Near the Euromast
If you would prefer to keep both feet on the ground, the Euromast is equally beautiful when seen from the ground. You can board the Splash, Spido and Waterbus boat for a tour of Rotterdam's harbor. The Kunsthal is nearby as well: a modern architectural pearl by Rem Koolhaas that showcases temporary art and cultural exhibitions.
Spending the night nearby
In addition to booking a room in the Euromast, you can also spend the night in one of the special hotels nearby. For instance the ss Rotterdam steam ship or the iconic Hotel New York.