© Panorama Mesdag

© Panorama Mesdag
Who was Mesdag?
As Rembrandt is associated with Amsterdam and Vermeer with Delft, so Mesdag is associated with The Hague. Mesdag was born in Groningen in 1831 and later moved to The Hague with his wife Sientje. He was considered an influential man in the art world of The Hague. He was not only an important painter, but also an art collector and a member of the board of the Hollandse Teekenmaatschappij (Dutch drawing association). Mesdag mostly painted sea views and spent a lot of time in Scheveningen. Mesdag collected many paintings in the course of his life, which today are on display in the The Mesdag Collection museum.
How the Panorama of Scheveningen came to be
The contract for painting the panorama came from Belgium, where such paintings were a huge trend. Mesdag did not work on the painting on his own. Some parts of the painting were painted by colleagues George Breitner, Sientje Mesdag-van Houten, Théophile de Bock and Bernard Blommers. Mesdag made a range of sketches to be able to paint Scheveningen. The panoramic painting itself was created in a different location. He also used several photographs, an unusual choice at the time.
Not long after Mesdag's Maritime Panorama opened in 1881, the business went bankrupt. Mesdag acquired the painting but few visitors showed up. He rented the panoramic painting to museums in Munich and Amsterdam, but it was not until after his death that more visitors came to see it because the ticket price was reduced significantly. It is now one of the most popular attractions in The Hague.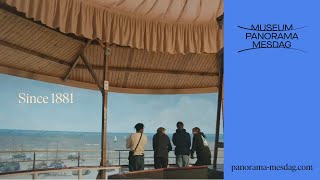 Watch this video: Panorama Mesdag
Opening hours and route to Museum Panorama Mesdag
Would you like to visit Museum Panorama Mesdag? In addition to the famous panoramic painting, the museum also has other works on display in permanent and temporary exhibitions. The address is Zeestraat 65 in The Hague, the same place in which it opened in 1881. If you want to see more paintings by Mesdag, the Mesdag Collection museum is within walking distance of Museum Panorama Mesdag.