Lunch or dinner at the beach
While most beach pavilions in the past only sold ice cream and a cheese sandwich, today they are often beautiful and thriving catering businesses with a range of facilities. Beautifully set tables indoors or on the terrace, good wines and often a top-quality menu served by an excellent chef.
We have listed the 10 greatest beach pavilions with the best chefs for you.
1. Beachclub Perry's
This club with its beautiful terrace, excellent lunch and dinner menus is located on a wonderful beach on the island of Schouwen-Duiveland in Zeeland. Elected best beach pavilion in Holland with good reason!
Address: Strand Brouwersdam 1, Scharendijke
www.beachclubperrys.nl
2. Paal 17
A great beach club on the Wadden Island of Texel, near De Koog, which German visitors have elected best beach club on the Wadden Islands.
Address: Ruyslaan 96, De Koog
www.paal17.com
3. Thalassa
Thalassa, named after the sea goddess, can be found on the Zandvoort beach. Enjoy the great town of Zandvoort, go for a hike along the kilometres of beach and then relax with excellent food and drinks at this beautiful beach club.
Address: Boulevard Barnaart, Strandafgang 18, Zandvoort
versaanzee.nl
4. Het Strand
Lovely views and a delicious menu featuring pure and honest food in Katwijk aan Zee in the province of Zuid Holland. Highly recommended!
Address: Boulevard Zeezijde 23, Katwijk aan Zee
het-strand.nl
5. Strandpaviljoen PUUR
Near the beautiful town of Groede on the Western Scheldt in Zeeland is where you will find a gorgeous view of the North Sea and Western Scheldt while enjoying great, pure food.
Address: Duinovergang 22, Zeeweg 1, Groede
www.strandpaviljoenpuur.nl
6. Beachclub O
Hip club in Noordwijk, where DJs spin up a good beat after a day in the sun by the sea and bartenders whip up a great cocktail.
Address: Koningin Wilhelmina Boulevard 106, Noordwijk aan Zee
www.beachclubo.nl
7. Beachclub Fuel
Super trendy beach club on the Bloemendaal beach with a character all its own. Great location, special atmosphere and excellent parties on the agenda.
Address: Zeeweg 84, Overveen
www.beachclubfuel.nl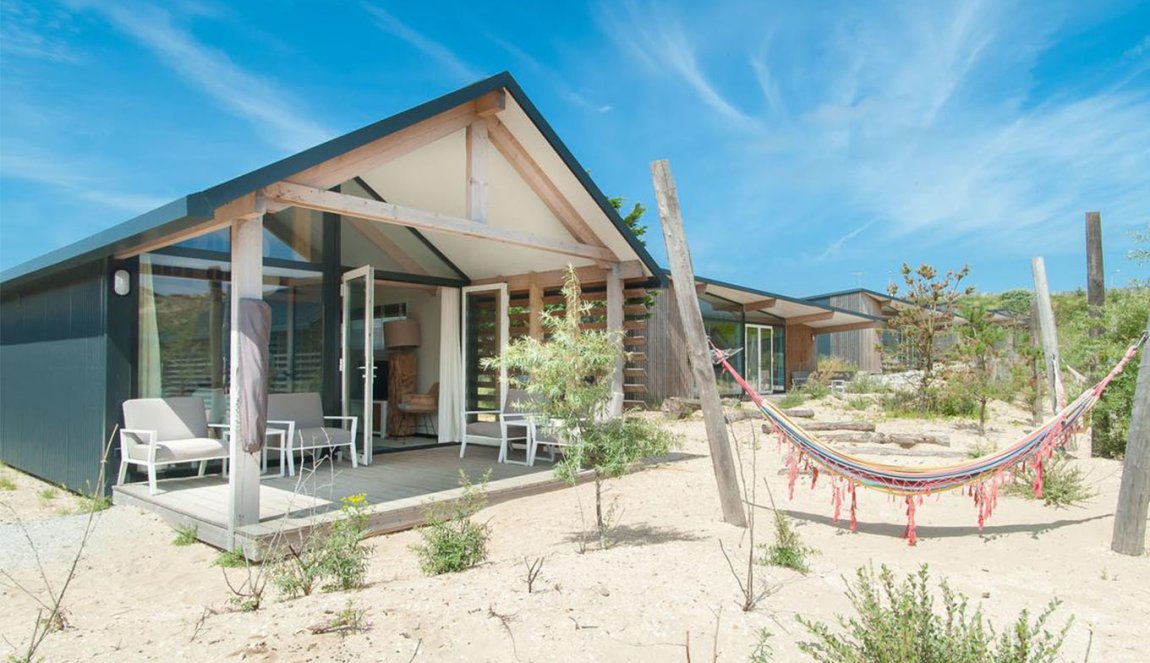 Sea lodges Bloemendaal is an unique holiday park located in the dunes of the bustling seaside town Bloemendaal aan Zee. It is a stone's throw from sea, beach and atmospheric beach bars.
8. Blue Lagoon
Big lounge sofas, open fires and pink Buddha statues… The Blue Lagoon terrace welcomes you in comfort and serves great food.
Address: Strandweg 25-27, Scheveningen
www.bluelagoon.nl/en
9. Zandzeebar
Unique beach club in Formerum aan Zee on the island of Terschelling. Great interior, excellent menu, a wonderful terrace and last but not least, beautiful beaches.
Address: Formerum Zuid 13, Formerum
dezandzeebar.nl
10. Beachhouse 25
This place on the coast near Breskens, in the southern part of Zeeland, serves great food and organises excellent parties on a regular basis. And the beaches around here are stunning, of course.
Address: Walendijk 9, Breskens
beachhouse25.nl