© Eighty8things via Maastricht Marketing
Join us for the festive season! We'll admit, at this time of year the weather is crisp and the sun can become somewhat of a stranger. But if you wrap up warm and take our tips on board, we guarantee you'll have the best time. Here's a sneak peek of what's in store: streets and canals glittering with lights and decorations, delicious seasonal foods, charming local traditions and… swimming in the sea while wearing a Santa hat. Yes, you heard that right!
Enjoy the festive spirit at beautiful Christmas markets.
Join in with local Christmas traditions and activities.
Taste the flavors of the festive season.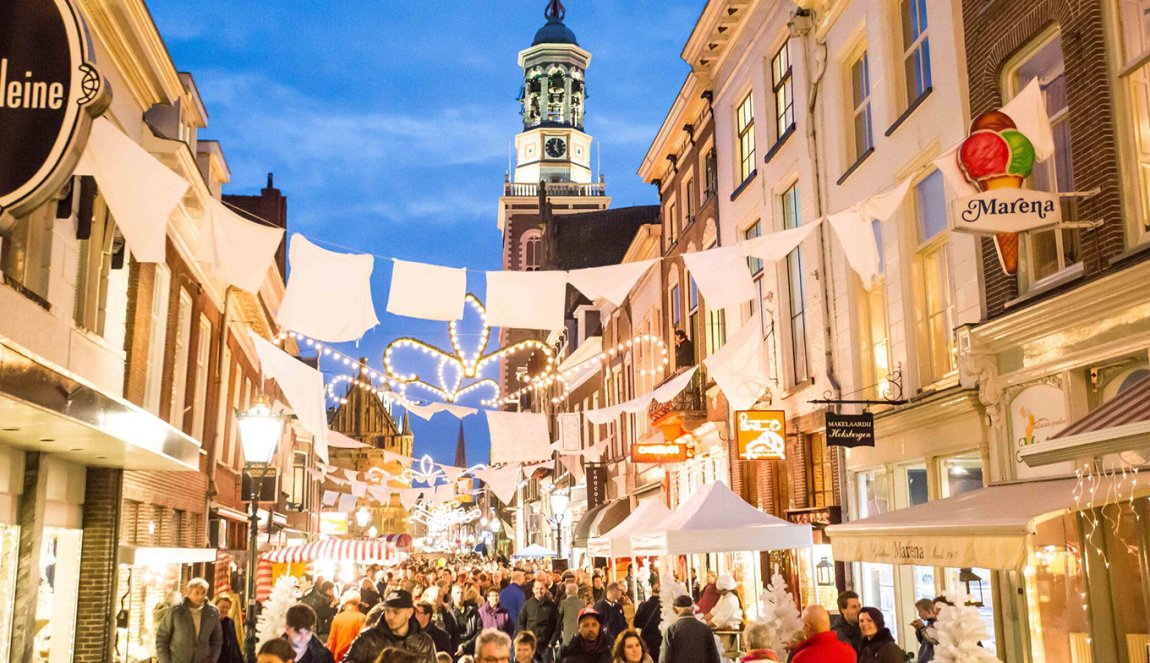 No gifts to unwrap at Christmas? Yes, this is just one of the ways the Netherlands celebrates Christmas differently. In fact, presents are usually exchanged on December 5th, on the holiday of Sinterklaas. For many, only after this day can the season truly begin. No matter which part of the country you're visiting, you can get involved with local festive activities. Feel the warm glow of the season by visiting a Christmas light show, from small candlelight processions to larger spectacles such as the Scheveningen Light Walk, the Magical Light Route Maastricht and Gouda by Candlelight. Attend a Christmas carol concert in local venues, churches or renowned concert halls such as Amsterdam's Concertgebouw. And if you're feeling brave – and have a spare Santa hat at the ready – you can join the annual New Year's Dive on the beach in The Hague. If you would like to attend a church service, take a look at churches in the area you're staying in. Midnight mass on Christmas Eve is held in many locations, and sometimes an English service is available, too.
Enjoy a festive cruise
Cruising through the canals is a fantastic way to see the sights. And it's even more special in the advent season, when towns and cities are sparkling with lights. Canal cruises are available in many locations, with each spot boasting its own charm. Of course, you can explore Amsterdam's famous canals but Haarlem, Utrecht, Delft and other towns all offer their own wonderful versions. For a particularly picturesque experience, consider visiting Giethoorn. Also known as the 'Dutch Venice', this quaint village features small canals, old wooden bridges and thatched-roof houses.
Sample seasonal foods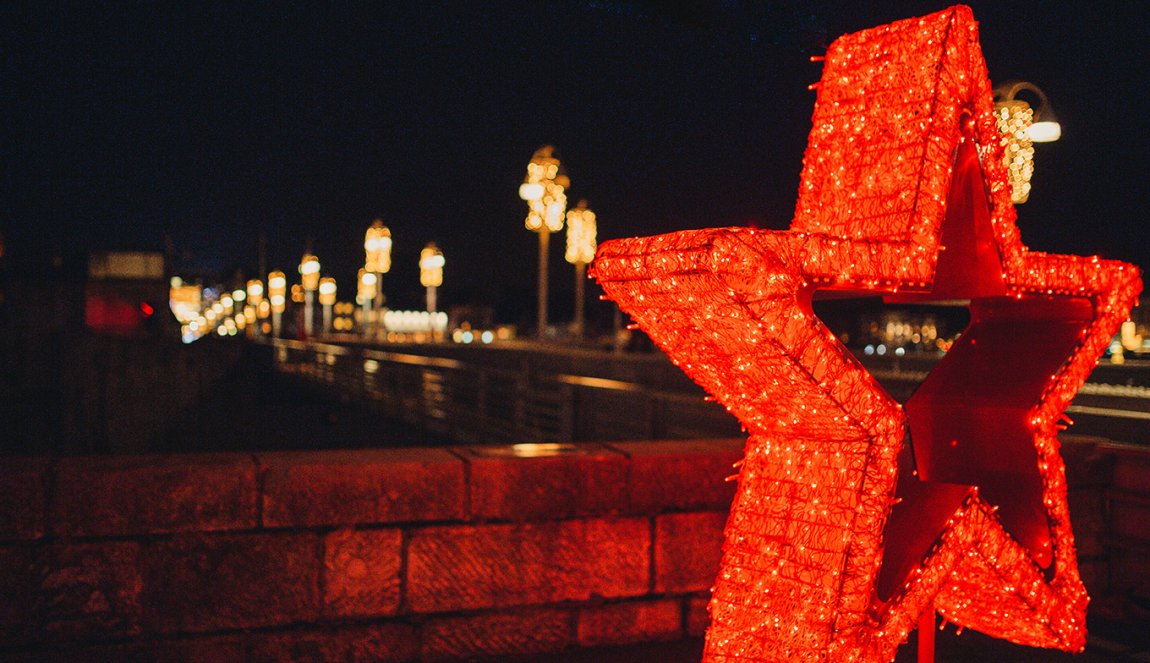 A trip to the nearest bakery should be high on your to-do list in the Christmas season. In December, a host of delicious seasonal baked treats return to the menu. For fans of fruit cake, kerststol is a must-try. This sweet bread filled with almond paste is a staple on the Dutch Christmas table. There is also a selection of traditional cookies, including speculaas (spiced cookies) and kerstkransjes (crunchy, lemony cookies in the shape of a Christmas wreath). And as New Year's Eve nears, you will see stalls selling oliebollen – a kind of doughnut traditionally eaten around the turn of the year – pop up on bridges and along canals. Finally, if you're lacking a sweet tooth, you can always try the well-loved ritual of gourmetten, where friends and families gather around the table to cook their own food on a shared grill plate. Usually, this is bite-sized pieces of meat and vegetables.
Shop 'til you drop at Christmas market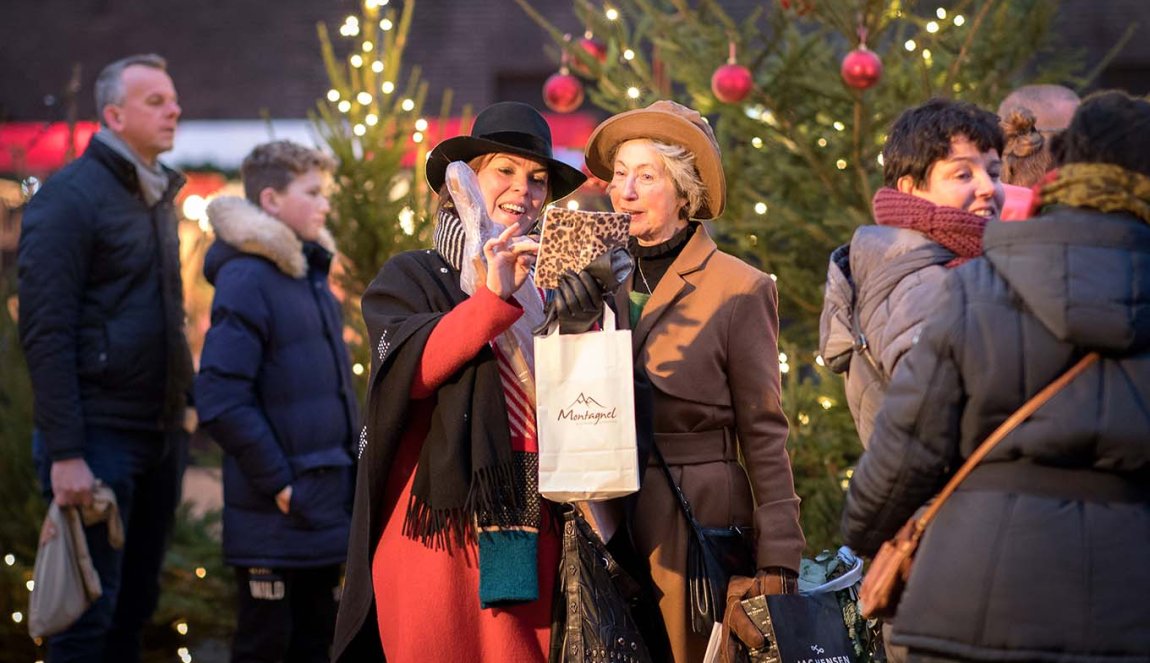 Finally, what is Christmas without a trip to a Christmas market? In the Netherlands, you'll be spoilt for choice. The largest market in in the country can be found in Haarlem, a historic city that's just a 15-minute train ride away from Amsterdam. However, there are many other options available. Experience a Victorian English Christmas at Deventer's Dickens Festival. Sample local produce and sip away at warming mulled wine at the winter edition of the Pure Markt in North Holland. And, of course, no trip is complete without a stop at Christmas Town Valkenburg, where guests can browse the stalls of a market set inside a cave. Be sure to also look out for smaller markets on town squares across the country, where you'll find locally produced items such as cheeses and baked goods. It's also a great opportunity to meet some locals!

Four tips for the ultimate Christmas vibe
Don't forget to visit small towns and villages alongside the larger cities to catch a glimpse of the holiday season throughout the whole country. The festive feeling can be found all over the country in December, but is experienced slightly differently in every city and village.

Stay for the new year to experience the Netherlands' love for fireworks once the clock strikes midnight. But of course it's much more fun (and a bit safer) to watch one of the many fireworks shows.

Take advantage of traveling in the off-season to visit hotspots and amusement parks with shorter lines and wait times.

For more tips, tricks and advice for visiting in the festive season, check out our recommendations for discovering winter in the Netherlands.